Last Updated on June 5, 2021
Noun Past Questions For ARD501 – Statistics and Research Methods. Locate the download button below to download the Noun Past Questions for ARD501 – Statistics and Research Methods.
---
NATIONAL OPEN UNIVERSITY OF NIGERIA
University Village, Nnamdi Azikiwe Expressway,
Plot 91, Cadastral Zone, Jabi, Abuja Faculty of Agricultural Sciences,
Dept. of Agricultural Economics and Extension PoP Exam Question October/November, 2019
Course Title Statistics and Research Methods
Course Code ARD 501
Credit Unit: 3
Total Score 70 Marks
Time Allowed: – 3 hrs
Instruction: Answer compulsory question 1 (30 mks) and any four (4) questions (10 mks each)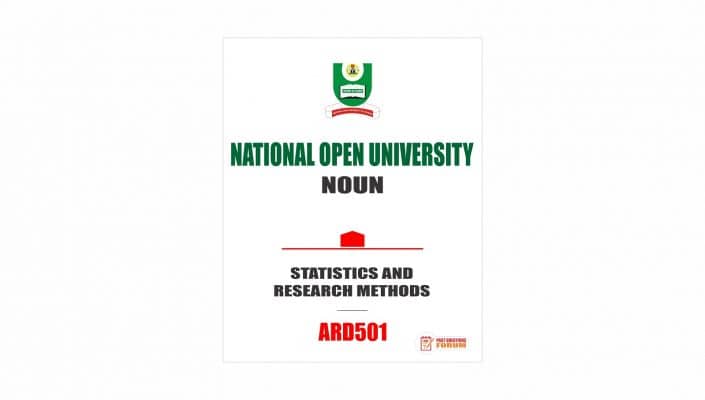 Question One
a. Expatiate on what is a research? (5 mks)
bi. Discuss what you understand as cross-cultural research? (5 mks) bii. Mention two (2) limitations of cross-cultural research (2 mks)
c. Define sample and sampling error (5 mks)
d. Define survey research (3 mks)
e. Enumerate two (2) advantages and two (2) disadvantages of social research (4 mks)
f. State three (3) importance's of research to the development of our society (6 marks)
Question Two
a. Outline any six (6) major contents of a comprehensive research report. (6 mks)
b. Briefly discuss any four (4) of the major contents of a comprehensive research report you mentioned above (4 mks)
Question Three
a. What is a pie-chart? (4 mks)
b. Below is the total of the male and female farmers' expenditure on their farm operations. Use the total to construct a pie-chart (6 marks)
Sex Jan Feb March April May June
Male Female 500
300 550
300 400
350 450
400 500
450 600
500
Question Four
a. What is probability (4 mks)
b. List three (3) types of probability sampling and three (3) types of non-probability sampling methods (6 mks)
Question Five
a. Define Ethnographic studies (3 mks)
b. Explain any two (2) ways which a researcher can effectively carry out an ethnographic study (4 mks)
c. What is measure of dispersion ? (3 mks)
Question Six
a. List and discuss any two (2) major different types of research (6 mks)
b. Suggest any four (4) essential steps that have been identified in the research process (4 mks)
Question Seven
a. What is a research problem? (4 mks)
b. Discuss any four (4) factors that determine the selection of a research problem (6 mks)
---

DISCLAIMER
Pastquestionsforum is a global focused test-prep company. It is our duty to provide you with the most comprehensive study materials for your examination. Our study materials are focused on extensive analysis, input from previous test candidates, and, on occasion, official/privileged study materials made available by examination bodies and testing agencies.