Last Updated on January 27, 2021
Noun Past Questions For ARD513 – Gender Issues in Agriculture. Locate the download button below to download the Noun Past Questions for ARD513 – Gender Issues in Agriculture
---
NATIONAL OPEN UNIVERSITY OF NIGERIA
University Village, Nnamdi Azikiwe Expressway, Plot 91, Cadastral Zone, Jabi, Abuja
Faculty of Agricultural Sciences, Dept. of Agricultural Economics and Extension, 
PoP Examination Questions, October/November, 2019
Course Title: Gender Issues in Agriculture
Course Code: ARD 513
Credit Unit: 3 
Total Score: 70 Marks
Time Allowed: 3 Hours
INSTRUCTION

: Answer question 1 (30 marks) and any other 4 questions (10 marks each).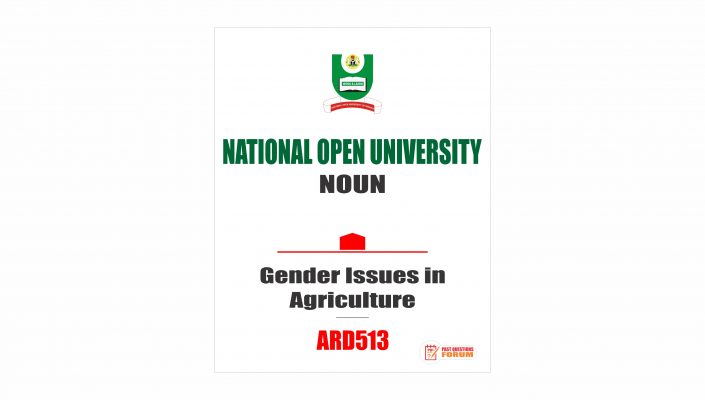 1 a) Explain the following:
i) Gender role
ii) Sex roles
iii) Gender Issues
iv) Gender awareness
v) Gender blindness (10 marks)
b) i) Define gender Analysis Matrix (5marks)
 ii) State two (2) principles of the Gender Analysis Matrix (5 marks)
C) State four (4) usefulness of gender analysis framework in a given project (10marks)
2 a) State two (2) objections to Psychological theory of gender (5 marks)
 b) Describe two (2) significance of theories of gender to agricultural development in Nigeria? (5
 mks)
3 a) Mention five (5) steps to take in carrying women along in community project. (5 marks)
 b) Explain five (5) constraints to gender roles in fishery and aquaculture.(5marks)
4. (a) Define Poverty. (2marks)
 (b) Briefly describe eight (8) ways of reducing poverty among women. (8marks)
5. a) Outline four (4) reasons that lead to failure of enforcement of land legislation and
regulations ( 4 marks)
 b) Mention four (4) ways of improving gender equality in land right: (4 marks)
 c) Define Agricultural labour (2 marks)
6. Define and explain the following:
(i) Gender equity (2marks)
(ii) Gender equality (2marks)
(iii) Gender sensitivity (2marks)
(iv) Gender stratification (2marks)
(v) Gender stereotype. (2marks)
 Total (10marks)
7. a) Explain gender division of labour. (4 marks)
 b) Briefly discuss the following gender roles in household and community works:
 i) Productive work (2marks)
 ii) Reproductive work (2marks)
 iii) Community work (2marks)
DISCLAIMER
Pastquestionsforum is a global focused test-prep company. It is our duty to provide you with the most comprehensive study materials for your examination. Our study materials are focused on extensive analysis, input from previous test candidates, and, on occasion, official/privileged study materials made available by examination bodies and testing agencies.