Last Updated on January 26, 2021
Noun Past Questions For HCM348 – Hospitality and tourism management. Locate the download button below to download the Noun Past Questions for HCM348 – Hospitality and tourism management
---
NATIONAL OPEN UNIVERSITY OF NIGERIA
University Village, Nnamdi Azikiwe Expressway, Plot 91, Cadastral Zone, Jabi, Abuja
Dept. of Agricultural Economics and Extension, Faculty of Agricultural Sciences
Second Semester POP Exam Question November/December, 2019
Course Code: —- HCM348 
Course Title: — Hospitality and tourism management 
Credit Unit: —-2
Total Score: —-70 Marks
Time Allowed: – 2 Hrs
Instruction

: Answer compulsory question 1 (25 mks) and any three (3) questions (15 mks each)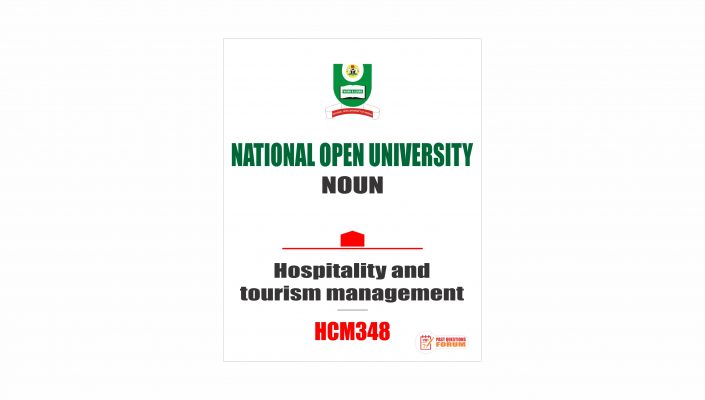 Question One
a. Briefly explain the reasons for the high demand on hospitality services (5 mks)
b. What are the two (2) operation services rendered by hospitality and travel industry in Nigeria (5 mks)
c. Give brief explanation on the importance of automobiles in the growth and development of
 accommodation in the hospitality industry (5 mks)
d. Explain briefly the services offered by the cruise liners in relation to hospitality industry. (5 mks)
ei. What is geography? (2 mks),
eii. Mention three (3) characteristics of a map as a tool to geographers. (3 mks)(Total = 25marks)
Question Two
a. List any three (3) different types of successful sales tools (3 mks)
b. Explain the relationship among sales, advertisement and marketing in a hospitality industry (6 mks)
c. Explain four (4) importance of the computer reservation system in the hospitality and tourism industry (6 mks)
Question Three
a. List two (2) types of reservation systems (2 mks)
b. List 5 different types of domestic and international regulatory organizations in hospitality and tourism
agencies (5 mks)
c. Explain one function in each case of any four (4) regulatory organizations listed above (8 mks)
Question Four
a. List four (4) responsibilities of a travel agent (6 mks)
b. Mention and briefly explain two (2) classification of hotels (4 mks)
c. Write short notes on ticketing (5 mks)
Question Five
a. Leadership exists within hospitality and tourism industry, state ten characteristics of a leader (5 mks)
b. In a tabular form list any five (5) differences between leadership and management (10 mks)
Question Six
a. Explain who a corporate travel manager is (5 mks)
b. State when and where the Act establishing Hotel and Catering Industry was established (4 mks)
c. Explain any four (4) functions of the established Act in hotel and catering industry (6 mks)
DISCLAIMER
Pastquestionsforum is a global focused test-prep company. It is our duty to provide you with the most comprehensive study materials for your examination. Our study materials are focused on extensive analysis, input from previous test candidates, and, on occasion, official/privileged study materials made available by examination bodies and testing agencies.