Last Updated on January 2, 2023
Unical Post UTME Past Questions… How to get a copy of the University of Calabar Post Utme Past Questions and answers. This page brings you the complete and updated version of the University of Calabar Post UTME past questions and answers in PDF format. Interested individuals should follow instructions on this page to proceed their purchase.
UNICAL Post UTME Past Question
The University of Calabar Post UTME past questions has been divided into three sections. All candidates are advised to select their respective faculties based on their course of study and proceed to payment.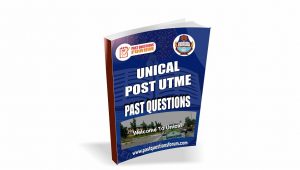 Unical Post UTME Past Questions and Answers 2022
The University of Calabar Post UTME Past Questions is a compilation of past unical post utme questions and answers conducted by the University of Calabar. The material is compiled in PDF format. It consists of unical post utme past questions for medicine and surgery, unical post utme past questions for arts, unical post utme past questions for nursing, unical post utme past questions for business management, unical post utme current affairs questions. download unical past questions in pdf format here. Bellow are some sample questions.
All students should note that this material is not free of charge. Students are advised to follow instructions on this page to make payment and get their material.
Unical Post UTME Sample Questions 2022
Question one The wavelike motion of the muscles of the oesophagus to push each bolus of food downwards is known as
A. Anti-peristalsis B. Digestion C. Peristalsis D. Oesophageal motion
Question two Which of these diseases cannot be controlled by killing the vectors?
A. River blindness B. Malaria C. Polio D. Cholera
Question three If a tall man (TT) marries a dwarf woman (tt) and they have four children, what will be the ratio of tall to dwarf children?
A. 0 tall:4 dwarf B. 3 tall:1 dwarf C. 2 dwarf:2 tall D. 4 tall:0 dwarf
Question four The chromosome is found in which organelle
A. The Nucleus B. The Mitochondria C. The Vesicle D. The Cytosol
Question five Photosynthetic organisms are classified as
A. Autotrophs B. Heterotrophs C. Herbivorous D. Omnivorous
Question six Which of the organisms listed below is not a micro-organism?
A. Virus B. Tapeworm C. Coccus D. Vibro cholera
Question seven The nervous system is made up of
A. Kidney, bladder and liver B. Testes and ovaries
C. Brain and spinal cord D. Muscles and skeleton
Question eight The synthesis of protein takes place in
A. Golgi body B. Ribosome C. Mitochondria D. Nucleus
Question nine Mutations involving alterations in the genes are called
A. Gene mutations B. Gene changes
C. Chromosomal mutations D. Chromosomal changes
Question ten Which vertebra has a projection on the centrum called odontoid process?
A. Atlas B. Axis C. Thoracic D. Lumber
Question eleven Deamination occurs in
A. Kidney B. Pancreas C. Spleen D. Liver
Question twelve The ability of an organisms to live successfully in an environment is known as
A. Succession B. Resistance C. Adaptation D. Competition
Question thirteen The following are connected with the movement of a reflex action
(1) Central nervous system, (2) Muscle, (3) Skin, (4) Sensory nerve, (5) Motor nerve Which of the following sequences indicates a correct path?
A. 1-2-3-4-5 B. 2-1-4-5-3 C. 3-4-1-2-5 D. 3-4-1-5-2
Question fourteen Which of the following statements is NOT true of symbiosis?
A. Symbionts must be living B. It is an association of 'give and take'
C. The association may involve two plants D. Association between two similar species
Question fifteen The deficiency of Vitamin D leads to:
A. Scurvy B. Pellagra C. Rickets D. Beriberi
Question sixteen Hepatic portal vein is unique because it
A. Carries deoxygenated blood B. Begins and ends with capillaries
C. Is the largest vein in mammals D. Carried digested food
Question seventeen The thoracic vertebrae of a mammal is characterized by the
A. Vertebraterial canal B. Prominent neural arch
C. Prominent neural process D. Prominent neural spine
Question eighteen A grasshopper respires by means of its
A. Lung-books B. Gills C. Lungs D. Tracheal tubes
Question nineteen The inactive state exhibited by an animal during hot dry seasons is termed
A. Aestivation B. Dormancy
C. Resting D. Hibernation
How to get University of Calabar Post UTME Past Questions
You can now get a copy of the University of Calabar Post UTME Past Questions and answers here. Simply proceed to checkout to complete your purchase and the past question will be sent to you through your email in PDF format.
Payments can be made either through bank transfer or with your ATM debit card online. The material will be sent to your email address after payment.
If you still find difficulties making payments, simply click on the WhatsApp floating button on this page and our representative will attend to you immediately.
DISCLAIMER
Pastquestionsforum is a global focused test-prep company. It is our duty to provide you with the most comprehensive study materials for your examination. Our study materials are focused on extensive analysis, input from previous test candidates, and, on occasion, official/privileged study materials made available by examination bodies and testing agencies.