Last Updated on December 22, 2022
Download the Independence National Electoral Commission, INEC Recruitment Past Questions here. The latest version of INEC Past Questions has been uploaded on this page, therefore individuals can now download and share the Independence National Electoral Commission, INEC recruitment past questions and answers to friends and family members. It should be noted that the Independence National Electoral Commission, INEC past questions and answers is the only guarantee to pass the INEC Interview test/examinations. Download WAEC Recruitment Past Questions And Answers. Follow the steps below to perform a stress free download of INEC past questions and answers
Independent National Electoral Commission, INEC
The Independent National Electoral Commission, founded in 1998, is the electoral body that was formed to oversee elections in Nigeria. INEC was founded by Abdulsalami Abubakar in 1998. The Independent National Electoral Commission, INEC has her headquarters located in Abuja.
Benefits of INEC Past Questions
The Independent National Electoral Commission, INEC Recruitment past questions and answers has a lot of advantages to applicants who wish to work in INEC. This material is a compilation of the past interview questions conducted by the The Independent National Electoral Commission, INEC during their past interviews. Some INEC sample questions has been posted below, to get the complete and updated material, kindly follow instructions on how to get INEC past questions below. Note that this material is not free.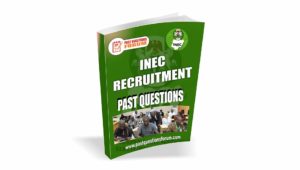 INEC Recruitment Past Questions and Answers PDF Download
The Independent National Electoral Commission, INEC recruitment past questions and answers has been compiled from different years, updated and available for download in PDF format. It is strongly advised that applicants which are seeking for employment at INEC, get this material as they prepare for the INEC interview/screening examinations. This material gives the applicant an insight on how the questions look like. You will also get to know the required subject combinations.
Free INEC Past Questions And Answers 2021
A free version of the INEC recruitment past questions has been posted below. Go through the free version of this material and ensure that you make payment to get the complete and updated version of this material. Note that you can only get full access to this material after successful payment.
Question one A condition for judicial independence is the appointment of judges by the
a. Civil service commission
b. Judicial service Commission
c. Low Review Commission
d. The 1979 constitution
Question two Which of the following political parties did not participate in the 1979 General
Elections in Nigeria?
a. Unity Party of Nigeria
b. National Party of Nigeria
c. Social Democratic Party
Question three The set of policies on the basis of which countries interact with one another is called
(A) diplomacy
(B) foreign policy
(C) National policy
(D) international relations
Question four A major issue that distinguishes pressure groups from political parties is
a. Membership
(b) objective
(c) voting patterns
(d) ideology
Question five The fundamental assumption on which the idea of the rule of law is based is
(A). Supremacy at the constitution
(B)rationality of human being
(C) quality of human being
(D) love for social justice
Question six Universal Adult Suffrage means all
a. Adult citizens can vote
b. Citizens vote
c. Qualified citizens can vote
d. Literate citizens can vote
Question seven The first Nigeria leader to become chairman of organization of african unity was:
(A) Tafawa Balewa
(B) Murtala Mohammed
(c) Yakubu Gowon
(D) Aguiyi Ironsi
Question eight Between 1960 and 1966 nigeria was governed under the
(A) presidential system
(B) westminster system
(C) confederal system
(D) unitary system
Question nine Under the Presidential system
a. The party with the majority of seat forms the Executive
b. There is the principle of collective responsibility
c. The president may come from any of the parties
d. The states take instruction from the federal government
Question ten A political concept that defines the beliefs, attitudes and values of a society is called
a. Political socialization
b. Political culture
c. Political transformation
d. Referendum
How to Get INEC Recruitment Past Questions and Answers
To get the INEC Past Questions and answers, simply click on the GET PAST QUESTION NOW button and make payment. Payments can be made via bank transfer or with ATM card online. After successful payment, your past question will be sent to your email address for download. Simply click on "Click to Download File" to start download
After downloading the past question from your mail, kindly rate our products and services and leave a review as well. Note that we use your reviews to improve in our services.
DISCLAIMER
Pastquestionsforum is a global focused test-prep company. It is our duty to provide you with the most comprehensive study materials for your examination. Our study materials are focused on extensive analysis, input from previous test candidates, and, on occasion, official/privileged study materials made available by examination bodies and testing agencies.