Last Updated on December 12, 2022
Nigerian Navy past questions. The Navy recruitment past questions and answers is available. Candidates who applied for the Nigerian Navy Recruitment can now download the latest and updated version of the Navy past questions and answers. You are advised to follow the instructions on this page to get a copy of the NN past Questions and answers.
The Navy past questions and answers is a complete guide for candidates who have participated in Navy recruitment. The Navy past questions contains past questions conducted by the Nigerian Navy and as such this material will help candidates know their ares of study as they prepare for the Navy interview or aptitude test examinations. All candidates are strictly advised to get this material while the prepare for the Navy interview which will be announced when the recruitment exercise is completed.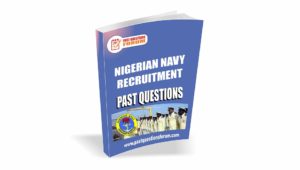 The Navy past questions comprises of past questions and answers conducted by the Nigerian navy during the past Navy interview examinations. This material includes navy past questions 2018, 2019 and 2020 and also the NNR 31 which is currently on. You are advised to follow the steps on this page to proceed a stress free navy past questions pdf download. Kindly note that this material is not free of charge. The price for this material has been boldly written before this post. Candidates should follow the steps below to pay and download.
Below is are some sample Navy past questions. The complete and updated version of this material will be sent to you immediately after your payment.
Question one Which of the following is the core duty of the Nigeria Navy?
(a) Persecuting of offenders
(b) Enforcing the law
(c) Insurance of Nigerian safety
(d) Deporting of foreigners
---
Question two The NN was brought out of the Nigerian police force (NPF) in
(a) 1946
(b) 1956
(c) 1958
(d) 1964
---
Question three The NN was formally established by the act of parliament
(a) 1963
(b) 1957
(c) 1964
(d) 1976
Question four The first African country to introduce e-passport was
(a) South Africa
(b) Ghana
(c) Liberia
(d) Nigeria
---
Question five How many comptrollers general has the NN gotten since the inception till
date?
(a) 10
(b) 12
(c) 8
(d) 15
How to Get the NN Past Questions
To Get a copy of the Nigerian navy recruitment past questions and answers, Kindly click on the GET PAST QUESTION NOW button and proceed to payment option page to make payment.
Payments can be archived either by bank transfer or with your ATM debit card online. After making a successful payment, the material will be sent to your email address in PDF format.
After getting your material, kindly leave a rating and a review in the review tab. We appreciate and respect our customers opinions and we use this information to make improvements on our products and services.
DISCLAIMER
Pastquestionsforum is a global focused test-prep company. It is our duty to provide you with the most comprehensive study materials for your examination. Our study materials are focused on extensive analysis, input from previous test candidates, and, on occasion, official/privileged study materials made available by examination bodies and testing agencies.