Last Updated on December 23, 2022
How to download the PTDF Scholarship Past Questions (OSS) . Get it now at Past Questions Forum. Here we provide latest PTDF Oversea Scholarship past questions and answers. The PTDF Scholarship has been divided into two parts, the oversea scholarship and the local scholarship. This page carries the past questions on the PTDF overseas scholarship. To get the PTDF Local Scholarship past questions, click on the button below.
All candidates should note that this PTDF Oversea Scholarship past question study pack contains past questions from 2002 till date. The study pack contains questions for both MSc and PhD past questions and answers respectively.
Download Also: PTDF Local Scholarship Past Questions
PTDF Scholarship Past Questions 2021
The PTDF scholarship past questions and answers is a complete guide which will help student during their preparation for the PTDF Scholarship Examination. The PTDF scholarship interview questions is a compiled material in PDF format that comprises of past scholarship questions organized by the Petroleum Technology Development Fund, PTDF. Note that this past question is a guarantee for success in the PTDF Scholarship Examination. This material introduces to you what to expect in PTDF interview. Note that the PTDF interview questions is not free, therefore you are advised to follow the steps on this page to proceed a stress free download of the PTDF aptitude test questions.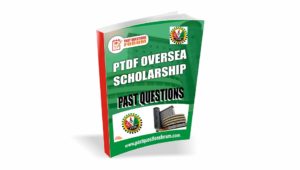 PTDF Scholarship Scheme
The Petroleum Technology Development Fund's Scholarship Schemes are part of PTDF's Human Capital Development goals to provide skilled workforce to meet oil and gas industry demands.
The Petroleum Technology Development Fund (PTDF) offers two forms of Scholarships. They are the Local Scholarship Scheme and the Overseas Scholarship Scheme.
Key Features of PTDF Oversea Scholarship Questions
Basic English
Mathematics
Quadratic equations,
Simple statistics,
Word problems in mathematics
PTDF Oversea Scholarship Sample Questions 2021
Question one Something that is biased and not impartial is referred to as
a. tendentious.
b. totalitarian.
c. authoritarian
d. egalitarian
Question two If you stymie someone's plans, you
a. copy those plans.
b. change those plans.
c. cancel those plans.
d. obstruct those plans.
Question three If you demur during a discussion, you
a. raise an objection.
b. make a good point.
c. make an embarrassing remark
d. say something that insults someone.
For questions, choose the best synonym for each vocabulary word.
Question four An exigent medical condition would
a. affect the extremities.
b. be slow to develop.
c. be commonplace and of little concern.
d. require immediate attention.
Question five umbrage
a. protection
b. offense
c. transition
d. gathering
Question six abeyance
a. obedience
b. reluctance
c. suspension
d. relief
Question seven An ineluctable consequence
a. cannot be avoided.
b. is not desirable.
c. would not be anticipated.
d. can be avoided.
Question eight verisimilitude
a. deceit
b. fanaticism
c. similarity
d. realism
Question nine minutiae
a. microcosm
b. regiment
c. details
d. pattern
Question ten  A harrowing experience is
a. mundane and boring.
b. distressing and upsetting.
c. sensual and romantic.
d. happy and joyful.
How to Get PTDF OSS Scholarship Past Questions
To get the PTDF OSS Past Questions, simply click on the GET PAST QUESTION NOW button and proceed to payment page to make payment.
Payment Options
Pay with card (using your ATM debit card to make payment online)
Bank transfer (using your mobile phone or copying account details to the bank for payment)
What To Do After Receiving your scholarship past questions
After getting your past question through your email address, kindly encourage us by rating our product and services and leaving a review in the review tab above.
Frequently Asked Questions FAQ
bank aptitude test
belema oil past questions
nnpc scholarship past questions
picfi scholarship past questions
ptdf lss past questions
ptdf scholarship portal
ptdf scholarship update
scholarship aptitude test questions
scholarship exam question
scholarship questions and answers pdf
why i wish to acquire ptdf scholarship
youngsharp test questions
If you have any questions feel free to leave a review in the review tab above and we will give you a response as soon as possible.
DISCLAIMER
Pastquestionsforum is a global focused test-prep company. It is our duty to provide you with the most comprehensive study materials for your examination. Our study materials are focused on extensive analysis, input from previous test candidates, and, on occasion, official/privileged study materials made available by examination bodies and testing agencies.