Description
Unical Post UTME Past Questions… How to get a copy of the University of Calabar Post Utme Past Questions and answers. This page brings you the complete and updated version of the University of Calabar Post UTME past questions and answers in PDF format. Interested individuals should follow instructions on this page to proceed their purchase.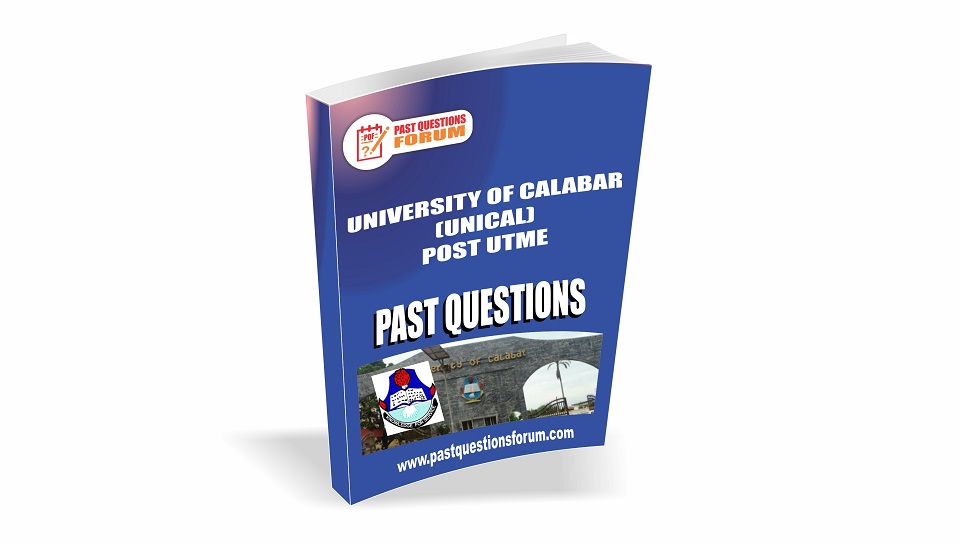 1. The wavelike motion of the muscles of the oesophagus to push each bolus of food downwards is known as
A. Anti-peristalsis B. Digestion C. Peristalsis D. Oesophageal motion
---
2. Which of these diseases cannot be controlled by killing the vectors?
A. River blindness B. Malaria C. Polio D. Cholera
---
3. If a tall man (TT) marries a dwarf woman (tt) and they have four children, what will be the ratio of tall to dwarf children?
A. 0 tall:4 dwarf B. 3 tall:1 dwarf C. 2 dwarf:2 tall D. 4 tall:0 dwarf
---
4. The chromosome is found in which organelle
A. The Nucleus B. The Mitochondria C. The Vesicle D. The Cytosol
---
5. Photosynthetic organisms are classified as
A. Autotrophs B. Heterotrophs C. Herbivorous D. Omnivorous
---
6. Which of the organisms listed below is not a micro-organism?
A. Virus B. Tapeworm C. Coccus D. Vibro cholera
---
7. The nervous system is made up of
A. Kidney, bladder and liver B. Testes and ovaries
C. Brain and spinal cord D. Muscles and skeleton
---
8. The synthesis of protein takes place in
A. Golgi body B. Ribosome C. Mitochondria D. Nucleus
---
9. Mutations involving alterations in the genes are called
A. Gene mutations B. Gene changes
C. Chromosomal mutations D. Chromosomal changes
---
10. Which vertebra has a projection on the centrum called odontoid process?
A. Atlas B. Axis C. Thoracic D. Lumber
---
How to get UNICAL Post UTME Past Questions
You can now get a copy of the UNICAL post UTME past questions and answers here. Simply proceed to check out to complete your purchase and the past question will be sent to you through your email in PDF format.
11. Deamination occurs in
A. Kidney B. Pancreas C. Spleen D. Liver
---
12. The ability of an organisms to live successfully in an environment is known as
A. Succession B. Resistance C. Adaptation D. Competition
---
13. The following are connected with the movement of a reflex action
(1) Central nervous system, (2) Muscle, (3) Skin, (4) Sensory nerve, (5) Motor nerve Which of the following sequences indicates a correct path?
A. 1-2-3-4-5 B. 2-1-4-5-3 C. 3-4-1-2-5 D. 3-4-1-5-2
---
14. Which of the following statements is NOT true of symbiosis?
A. Symbionts must be living B. It is an association of 'give and take'
C. The association may involve two plants D. Association between two similar species
---
15. The deficiency of Vitamin D leads to:
A. Scurvy B. Pellagra C. Rickets D. Beriberi
---
16. Hepatic portal vein is unique because it
A. Carries deoxygenated blood B. Begins and ends with capillaries
C. Is the largest vein in mammals D. Carried digested food
---
17. The thoracic vertebrae of a mammal is characterized by the
A. Vertebraterial canal B. Prominent neural arch
C. Prominent neural process D. Prominent neural spine
---
18. A grasshopper respires by means of its
A. Lung-books B. Gills C. Lungs D. Tracheal tubes
---
19. The inactive state exhibited by an animal during hot dry seasons is termed
A. Aestivation B. Dormancy
C. Resting D. Hibernation