Last Updated on January 4, 2023
Exam preparation with past questions is usually beneficial. Past questions are useful for exam preparation because they give you practical insight into how the assessment body designs their exams, how the exam you're prepared for might look, and what important themes or subject areas are likely to be covered. This pages brings you the official JAMB Chemistry Past Questions in a PDF format.
To do well in the JAMB Chemistry exams, you must prepare thoroughly. This is why it is critical for JAMB exam applicants to practice with JAMB past questions. You can access the JAMB English past questions and answers here. You can go over them again to see what you know and what you don't.
You can select JAMB PAST QUESTIONS for other subjects to view previous questions and begin studying.
Jamb Chemistry Past Questions and Answers 2023
Our Jamb / UTME Past Questions and Answers For Chemistry are compiled from a large number of previous written exams administered by the Joint Admissions and Matriculation Board. The Joint Admission and Matriculation Board (JAMB) was originally known as the Joint Admission and Matriculation Examination (JAMB), but it is now known as the Unified Tertiary Matriculation Examination (UTME) (UTME). Since every student has a smartphone these days, our goal is to provide convenient access to these vital tools, which can help you achieve.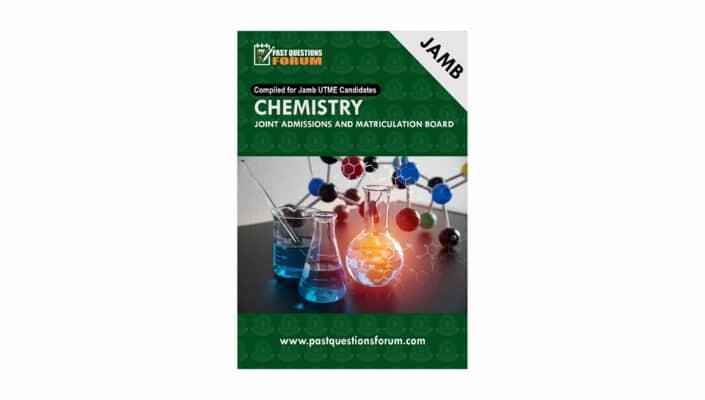 Free Jamb Chemistry Past Questions (Sample Questions)
Below are Chemistry sample questions from the Joint Admissions and Matriculations Board UTME examination. This is just a preview of what the question looks like. The complete material will be available for download after you have clicked the GET PAST QUESTION NOW button
Question one Which chemistry paper type is given to you
A. Type A
B. Type B
C. Type C
D. Type D
2. Which of the following is an example of a mixture?
A. Common salt
B. Blood
C. Sand
D. Washing soda
Question two Calculate the percentage by mass of nitrogen in calcium trioxonitrate (V) [Ca = 40, N = 14, O = 16] A. 8.5%
B. 13.1%
C. 17.1%
D. 27.6%
Question three Coffee stains can best be removed by
A. Kerosene
B. turpentine
C. a solution of borax in water
D. ammonia solution
Question four Carbon (II) oxide is considered dangerous if inhaled mainly because it
A. can cause injury to the nervous system
B. competes with oxygen in the blood
C. competes with carbon (IV) oxide in the blood
D. can cause lung cancer
Question five The acid that is used to remove rust is
A. boric
B. hydrochloric
C. trioxonitrate (V)
D. tetraoxosulphate (VI)
Question six What quantity of aluminium is deposited when a current of 10A is passed through a solution of an aluminium salt for 1930s?b[Al = 27, F = 96500 C mol-1] A. 0.2 g
B. 1.8 g
C. 5.4 g
D. 14.2 g
Question seven In which of the following is the entropy change positive?
A. Thermal dissociation of ammonium chloride
B. Reaction between an acid and a base
C. Addition of concentrated acid to water
D. Dissolution of sodium metal in water
Question eight If a reaction is exothermic and there is a great disorder, it means that
A. the reaction is static
B. the reaction is in a state of equilibrium
C. there will be a large increase in free energy
D. there will be a large decrease in free energy
How to Get the JAMB Use of Chemistry Past Questions and Answers
You are one step away from getting your material. Kindly hit the GET PAST QUESTION NOW button, fill in your details at the checkout page and hit the place order button.
Your download will be available immediately after completing the process
Cheers!
DISCLAIMER
Pastquestionsforum is a global focused test-prep company. It is our duty to provide you with the most comprehensive study materials for your examination. Our study materials are focused on extensive analysis, input from previous test candidates, and, on occasion, official/privileged study materials made available by examination bodies and testing agencies.