Last Updated on January 11, 2023
NDA Application Form for 75 regular course or 75rc 2023/2024 academic year has been released. Aspiring students of the Nigerian Defence Academy can how access the nda 75rc form directly on the school's portal. We will provide detailed guides and procedures on how to apply for admission into Nigerian Defence Academy, NDA.
Application For Admission Into The Nigerian Defence Academy 75 Regular Course
This is to let the general public know that from Monday, October 24, 2022, until March 31, 2023, they can apply online for admission to the 75 Regular Course at the Nigerian Defence Academy (NDA), Kaduna. Both male and female Nigerians are eligible for admission to NDA. After acquiring their ORDER ID and REMITA Retrieval Reference (RRR) Code in the amount of N3,500.00 only, candidates should go on to the application portal www.ndaapplications.net, select "Purchase Access Code," and fill out their data to pay for their application via REMITA. Please take note that payments can only be made with RRR Codes generated through the application portal.
Please take note that this application can only be submitted using the 2023 JAMB. Do not SUBMIT this application form until you have registered for JAMB 2023 exam and submitted all of your personal information.
How to Apply for NDA 75RC Form 2023
It is encouraged that interested candidates should visit the nda application portal or visit www.ndaapplications.net and submit their applications online. Applicants are advised to carefully read the instructions provided on this website. Candidates who are submitting applications for admission to NDA must also apply for JAMB and make NDA their first choice of institution.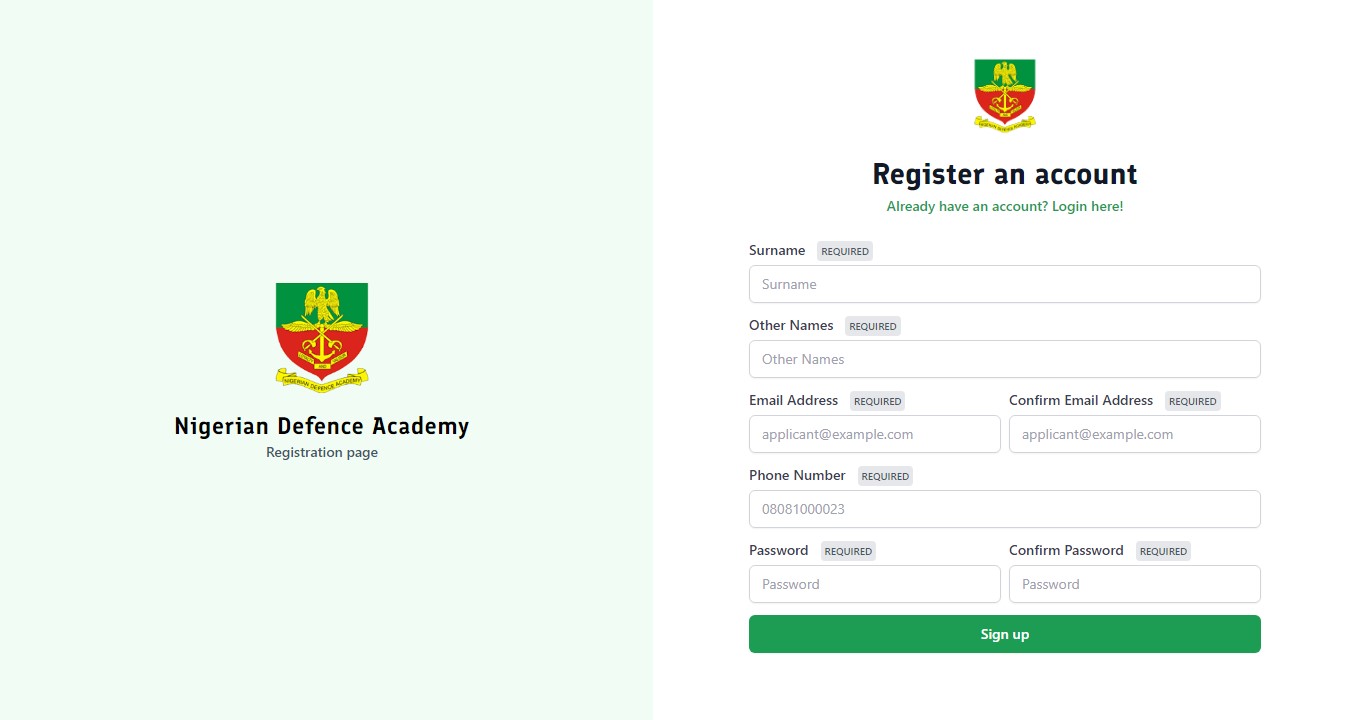 Please follow the instructions exactly as they are stated to ensure your application is correctly completed.
Visit the nda application portal or visit www.ndaapplications.net
Register an account and login to begin your application.
Do not forget to save whenever you can.
Please ensure to fill all fields marked REQUIRED
After filling the form ensure to print your acknowledgement form.
Passport photo's should be in JPG, JPEG or PNG format.
The passport must be less than or equal to 40KB
Please ensure you check through the application before you submit. No edits can be made after submission.
You will be required to make a payment of ₦3,500
Click on the GENERATE button to generate payment invoice. (Your RRR number will be generated and displayed before you)
Copy your RRR number to remita.net and make payment.
Once payment is complete, you can now update your Bio data, Academic history, Qualifications, Course of study, Your JAMB exam details, your results and passport photographs, and finally review and submit your application.
Note that you must make payment of ₦3,500 before you can proceed with the application as well as your submission. Applications must be submitted with scanned copies of the SSCE results. The Acknowledgement Form must be downloaded by the candidates after submitting their online applications. If you require any assistance or need help, please use the comments section.
NDA 75RC Admission Requirements 2023
The NDA admission form requirements has been provided on this website together with specific information on the criteria for numerous undergraduate degree programs. We have provided all other information regarding degree programs, eligibility requirements, and screening test locations. Please take note that applicants will have an advantage if they are conversant in French Arabic.
Download NDA 75RC Requirements
Conditions for NDA 75RC Screening 2023
Applicants must meet the admission requirements which include that they have have scored at least 180 for Arts & Social Sciences and Science and 210 for Engineering courses in JAMB. Candidates who do not meet these requirements won't have access to print Screening Test Admission Card and as well won't participate in NDA screening test at the center they choose.
NDA 75RC Screening Date and Requirements 2023
Phase one of the Post-UTME screening will consist of the screening test, The screening date is scheduled for Saturday, April 22, 2023. At the NDA screening test center, all qualified candidates must carry their Acknowledgement Form, Screening Test Admission Card, JAMB result sheet, and TWO (2) postcard-sized (3.5 x 5 inches) pictures. Only the chest should be seen in the pictures, and the back should have the candidate's name, exam number, state, exam center, course of study, and signature. Only those who perform well at the NDA Screening Test will then be invited to the Armed Forces Selection Board (phase 2 of the screening test), after which the list of candidates who have been admitted will be made public.
Nigerian Defence Academy Training and Duration
Candidates accepted into the NDA's Regular Course will spend five years as Officer Cadets undergoing both military and academic training. Graduands who successfully complete their program will be awarded an honors degree in a core discipline (BSc, BEng, BA). They will both receive a Presidential Commission into the Nigerian Armed Forces.
DISCLAIMER
Pastquestionsforum is a global focused test-prep company. It is our duty to provide you with the most comprehensive study materials for your examination. Our study materials are focused on extensive analysis, input from previous test candidates, and, on occasion, official/privileged study materials made available by examination bodies and testing agencies.