Last Updated on June 28, 2022
Writing plagiarism-free College essays is a very daunting task. You have to have a full grip on vocabulary, spelling, and grammar. When writing about some old event or phenomenon, you need to use unique words and phrases that do not match with some other source.
All these things make it hard for a regular student to do well in college essay assignments. However, there are some things that one can do to make all of this a little bit easier. In this article, we are going to share with you a few simple tips to follow when rewriting a college essay.
These tips will help you create effective college essays without having to spend a crazy amount of time and energy so stay with us. 
Here are some things that you can do when writing plagiarism-free college essays
1. Use Paraphrasing Tools
You can use a paraphrasing tool when writing essays to save your time and energy. After writing an essay from different sources, you can enter it into such a tool to replace phrases or words that are similar to the existing material.
These tools take very little time to generate unique content with high readability and grammatical accuracy. These tools help you learn new words and phrases that you can use to write effective essays while staying true to the main theme or idea of the material.
By using these tools, you can improve the readability, sentence structure, and spelling mistakes which helps you come up with an essay that belongs only to you and is free from any plagiarism whatsoever.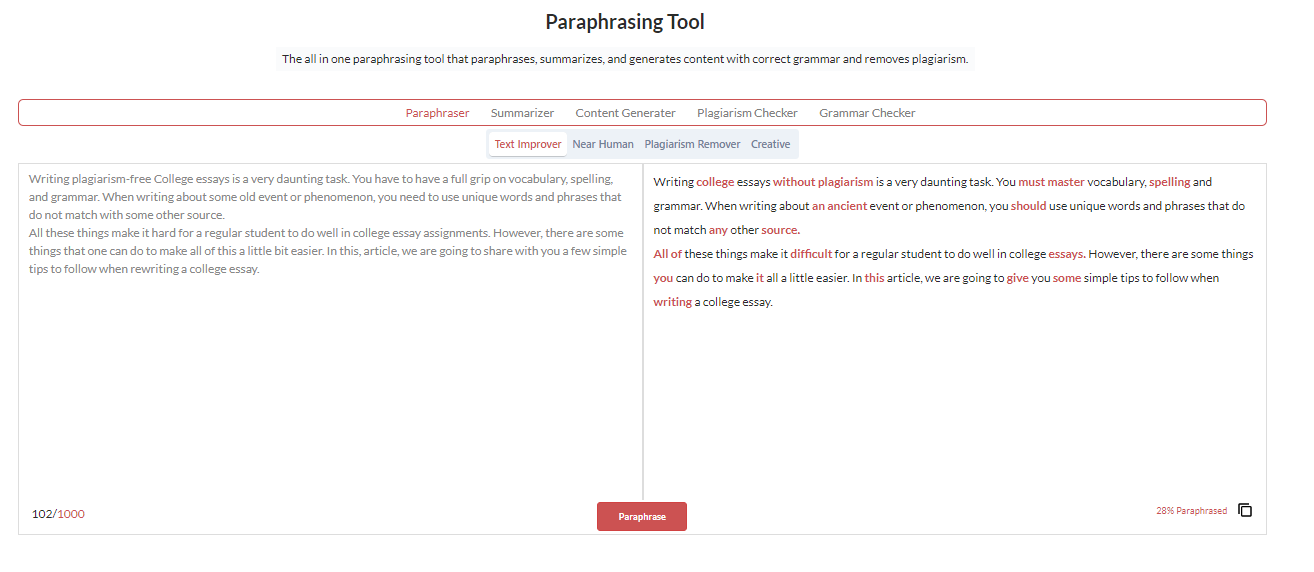 2. Check Plagiarism
Once you are done writing or paraphrasing an essay, it is always a good idea to check whether it has plagiarism or not using some free online plagiarism checker.
These tools analyze your entire essay in just a few minutes and give you a full report about the text. 
They show the areas that contain plagiarism and list the sources from which you have plagiarized those parts. This information helps you detect and remove plagiarism in no time.
If you do not check your essays for plagiarism and submit these to your professor after using just a rephrase tool, he or she can run the plagiarism checker and figure out the parts that are plagiarized.
This can really affect your grades as well as reputation which is simply not worth it.
3. Use Quotation Mark Properly
One way of removing plagiarism is by using quotation marks when it is impossible to paraphrase without changing the central theme of the essay. You should always put the words and ideas of other people inside quotation marks and then mention the source or name of the writer immediately after that.
This shows that you are an honest individual who values other people's intellectual properties. When using quotes, it is suggested that you do not overdo it since it makes you look weak as a writer and shows that your material has less originality.       
3. Always Cite Your Source
Citations are a great way to avoid plagiarism in your college or university essay. You can add citations either at the bottom of the same page or at the end of the essay as a reference list.
Citations must include the name of the source or writer and details about the date on which the source was produced.
By writing citations you are clearly telling that the words or ideas that you just used do not belong to you and that you have just used these to make things more detailed and comprehensive for your readers.      
5. Research Properly
In order to write a great college essay, you need to do a lot of research involving various sources like books and websites. Simply rewriting your essay from a single source will definitely lead to plagiarism.
If you research your essay thoroughly and keep a record of your sources as you do so, you can combine these to produce highly unique and authentic material. Proper research can help you avoid plagiarism without even using any paraphrase tool and that is why you need to do that before writing your essay.
Final Thoughts 
So, now you know how to write a college essay that contains zero plagiarism. If you use your own creativity and take help from some rephraser tool, you can easily avoid plagiarism and produce a great essay that looks authentic and original.
By following these few simple tips, you can come up with your own content that is different and has no spelling or grammar mistakes whatsoever.
We really hope these few tips to avoid plagiarism in essays have been of some help to you and we wish you all the best for writing unique college essays that contain your own style and flavor.
DISCLAIMER
Pastquestionsforum is a global focused test-prep company. It is our duty to provide you with the most comprehensive study materials for your examination. Our study materials are focused on extensive analysis, input from previous test candidates, and, on occasion, official/privileged study materials made available by examination bodies and testing agencies.