Last Updated on January 4, 2023
Exam preparation with past questions is usually beneficial. Past questions are useful for exam preparation because they give you practical insight into how the assessment body designs their exams, how the exam you're prepared for might look, and what important themes or subject areas are likely to be covered. This pages brings you the official JAMB Literature Past Questions in a PDF format.
To do well in the JAMB Literature exams, you must prepare thoroughly. This is why it is critical for JAMB exam applicants to practice with JAMB past questions. You can access the JAMB English past questions and answers here. You can go over them again to see what you know and what you don't.
You can select JAMB PAST QUESTIONS for other subjects to view previous questions and begin studying.
Jamb Literature Past Questions and Answers 2023
Our Jamb / UTME Past Questions and Answers For Literature are compiled from a large number of previous written exams administered by the Joint Admissions and Matriculation Board. The Joint Admission and Matriculation Board (JAMB) was originally known as the Joint Admission and Matriculation Examination (JAMB), but it is now known as the Unified Tertiary Matriculation Examination (UTME). Since every student has a smartphone these days, our goal is to provide convenient access to these vital tools, which can help you achieve.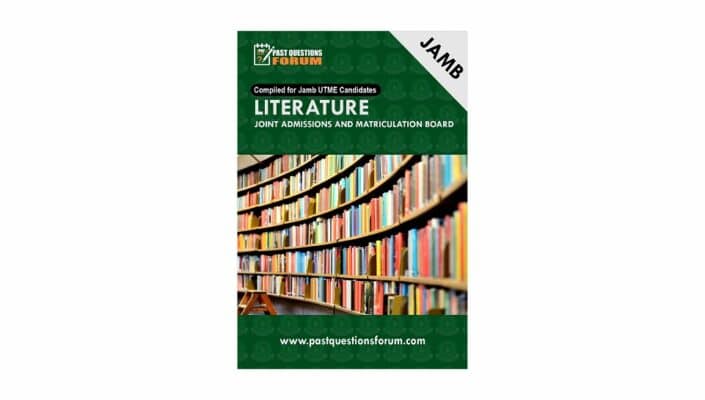 Free Jamb Literature Past Questions (Sample Questions)
Below are Literature sample questions from the Joint Admissions and Matriculations Board UTME examination. This is just a preview of what the question looks like. The complete material will be available for download after you have clicked the GET PAST QUESTION NOW button
Question one The novel draws a picture of
A. a useless past
B. a totalitarian future
C. an unstable moment
D. a peaceful atmosphere
Question two The power and oppression of an irresistible evil debased Winston's dreams of
A. freedom and democracy
B. internal security
C. wealth and capitalism
D. sovereignty
Question three Room 101 symbolises a place of
A. rest
B. fun
C. humiliation
D. torture
Question four The novel can be described as
A. optimistic
B. antagonistic
C. persuasive
D. pessimistic.
Question five In the play, the central idea is that gender equality is
A. both undesirable and unattainable
B. desirable but unattainable
C. attainable and desirable
D. obnoxious but desirable
Question six In their flight, the women settle at Iyara in order to
A. cure cross-piece
B. hurt their husbands
C. forestall reconciliation
D. seek peace
Question seven `…Great Orators in the assembly, and poor nannies at home:" Those being ridiculed here are the
A. husbands
B. old-women
C. wives
D. spinsters
Question eight. …Those with full breasts have walked out, and that leaves you, me, and, the old-girls returned home on retirement, it's the dry season child." The character to whom the words are spoken in the play is in
A. front of the veranda of Okoro's house
B. the-kitchen, upstage
C. Okoro's front yard, down stage
D. the direction of the kitchen, off stage
Question nine The mutual exchange of abuse in the play is reminiscent of
A. Ikaki
B. Udje
C. Etiyeri
D. Ekpe
I wonder how long, you awful parasites, Shall share with me this little bed, And awake me, from my sweet dreams be lost,
Sucking blood from my poor head… Mbure: "To Bed-Bug"
Question ten. The lines are an example of a
A. limerick
B. lampoon
C. light verse
D. light opera.
Question eleven The poet persona expresses dismay about
A. bat
B. cockroaches
C. grass coppers
D. light opera
Question twelve The most dominant figure of speech in the excerpt is
A. metaphor
B. simile
C. personification
D. hyperbole
Question thirteen You Your head is like a drum that is beaten for spirits You Yours ears are like the fans used for blowing fire.
The lines above are a good example of
A. caricature
B. ridicule
C. satire
D. lampoon.
How to Get the JAMB Use of Literature Past Questions and Answers
You are one step away from getting your material. Kindly hit the GET PAST QUESTION NOW button, fill in your details at the checkout page and hit the place order button.
Your download will be available immediately after completing the process
Cheers!
DISCLAIMER
Pastquestionsforum is a global focused test-prep company. It is our duty to provide you with the most comprehensive study materials for your examination. Our study materials are focused on extensive analysis, input from previous test candidates, and, on occasion, official/privileged study materials made available by examination bodies and testing agencies.