Last Updated on January 2, 2023
Schlumberger Past Questions… Get access to the Schlumberger Job Aptitude test Past questions and answers now. Are you an applicant preparing for the Schlumberger Job Aptitude test? Did you apply for a joy at Schlumberger? If yes, you must take this information on this page seriously. We have fully compiled the schlumberger test questions in a PDF format for your consumption. This PDF material contains Schlumberger previous question which will help applicants know their areas of concentration while preparation for the examination. Download also: NIPR Exam Past Questions
About Schlumberger
Schlumberger was born of an idea that voltage measurements at the surface could be mapped to reveal subsurface structure if an electric field could be produced below ground. The first map of equipotential curves was reported in 1912 using very simple facilities after two years of laboratory and field research. While disclosing underground features, such as bed boundaries and the position of formation layer dips, the result verified the process. This was important because the method provided additional data that could be useful for locating subsurface structures that form traps for minerals such as oil and gas.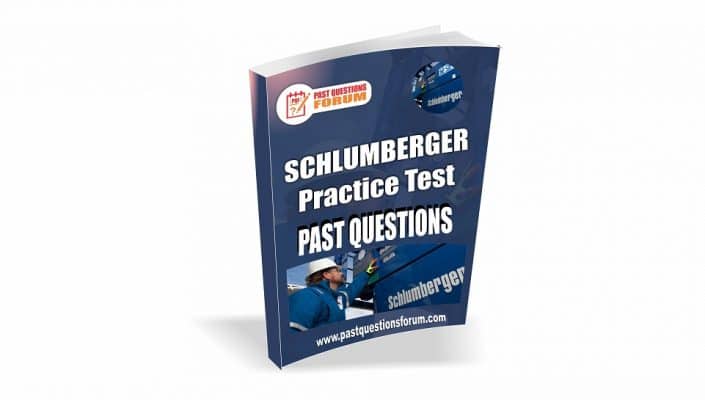 Careers at Schlumberger
Your real-life work starts the day you are employed, with plenty of chances to take early responsibility. Each day will be different, bringing its own interesting challenges, whether you're working in the field, the lab, or in the office.
Schlumberger Application Process
The Schlumberger application process begins with an Online Application after the online application and Interview follows and after the interview, finally the Assessment Center.
Schlumberger Past Questions and Answers
The Schlumberger past questions and answers has been fully compiled and updated to the latest version. All individuals who are going in for the Schlumberger interview examination are strictly advised to get the preparatory material which will guarantee success in the examination. The material contains Numerical reasoning, Diagrammatic/Logical reasoning and Mechanical reasoning.
1. Schlumberger Numerical Reasoning
The Schlumberger Numerical Reasoning tests are designed to assess your numerical abilities and apply to graphs, percentages, and tables from which you are asked to interpret information and select from a collection of responses of multiple choices. These will be arranged so that it is essential to prepare in advance.
2. Schlumberger Diagrammatic / Logical Reasoning
Questions related to sequences of forms and patterns are part of the Schlumberger Diagrammatic and Logical Reasoning studies. There will be a missing step in every question and you will be presented with a variety of answers to choose from. These are intended to test both your logical rationale and your analytical and problem-solving abilities.
3. Schlumberger Mechanical Reasoning
The Mechanical Reasoning tests of Schlumberger are similar to the standard numerical and verbal reasoning in that it is timed and consists of a series of questions with answers of many choices. To solve problems, this exam tests the ability to grasp and apply mechanical concepts and principles. It is advisable to practice beforehand, as with all forms of online exams, in order to decide how much time to spend on each question. Ensuring complete understanding of mechanical concepts is also important.
How to Get the Schlumberger Aptitude Test Past Questions and Answers
To get the Schlumberger past questions and answers, kindly hit the GET PAST QUESTION NOW button and you will be directed to our secured payment option page where you will have to fill in your personal details and make payment. After successful payment, the material will be sent to your email address immediately.
DISCLAIMER
Pastquestionsforum is a global focused test-prep company. It is our duty to provide you with the most comprehensive study materials for your examination. Our study materials are focused on extensive analysis, input from previous test candidates, and, on occasion, official/privileged study materials made available by examination bodies and testing agencies.