Last Updated on January 2, 2023
Abbey Mortgage Bank Past Questions and Answers is available follow steps on this page to download. We have fully compiled and udated our copy of the Abbey Mortgage Bank past questions and answers. All candidates who will be taking the Abbey Mortgage Bank interview screening examination are all advised to get this material while they prepare for their examinations. Download Also: GTBank Past Questions
About Abbey Mortgage Bank
ABBEY was founded on August 26, 1991 and authorised by the Central Bank of Nigeria on January 11, 1992, to carry on business as a primary mortgage institution (PMI). On March 11, 1992, full commercial operations commenced. ABBEY began with N5million of initial approved share capital. Our share capital is currently N2.1 billion, while our equity has risen to more than N6 billion over the years through capital injection, incentive issue, and profitable trading.
The Abbey Mortgage Bank Plc offers housing and mortgage sectors to make this dream a reality. The Abbey Mortgage Bank Plc is the premier, largest and the most profitable, non-aligned primary Mortage Bank in Nigeria.
Abbey is one of the seven Central Bank of Nigeria and Federal Mortgage Bank of Nigeria (FMBN) accredited national primary mortgage banks (PMB). The recent recapitalization exercise saw the size decrease from 105 to just 34 mortgage banks that now survive. Not only were we effectively capitalized, but we were one of the few firms that also fulfilled our national responsibilities as well as those of public liability companies.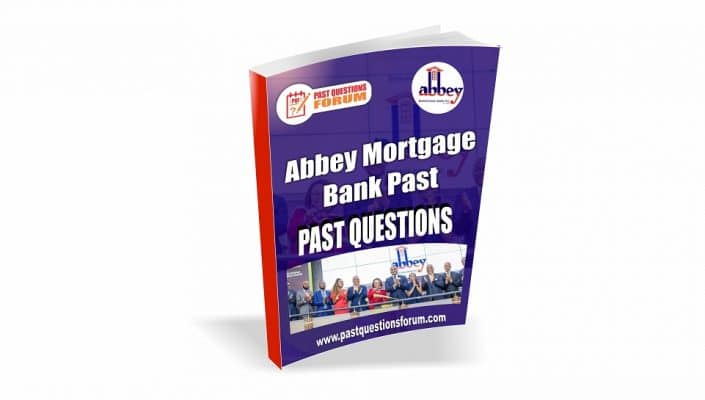 Abbey Mortgage Bank Past Questions and Answers PDF
The Abbey aptirude test past questions and answers has been uploaded here as said earlier. All applicants who will be taking the Abbey Mortgage Bank PLC interview exams are advised to get this material now. We have therefore made the price cheap and affordable for individuals. Note that this material will be sent to you in a PDF format immediately after payment. Follow the procedures below to pay and get your material now.
How to get the Abbey Mortgage Bank PLC Job Interview Questions and Answers
To get the complete version of the of the Abbey Mortgage Bank Job Interview Questions, hit the GET PAST QUESTION NOW button and you will be directed to our payment option page. Simply enter your detals and click on place order to make payment. After successful payment, the material will be sent to your email address in a PDF format.
DISCLAIMER
Pastquestionsforum is a global focused test-prep company. It is our duty to provide you with the most comprehensive study materials for your examination. Our study materials are focused on extensive analysis, input from previous test candidates, and, on occasion, official/privileged study materials made available by examination bodies and testing agencies.