Last Updated on May 14, 2022
Abstract Reasoning Past Questions… Abstract Reasoning Aptitude Test Questions Study Pack PDF is available here. Prepare adequately for your job interview examinations. This study pack will allow you to practice more quickly and easily for abstract reasoning tests, using real test questions to explain the basic rules you should learn while answering abstract reasoning tests. You are going to learn the rudiments of abstract thinking and master the art of correctly answering questions. Download also GMAT Official Guide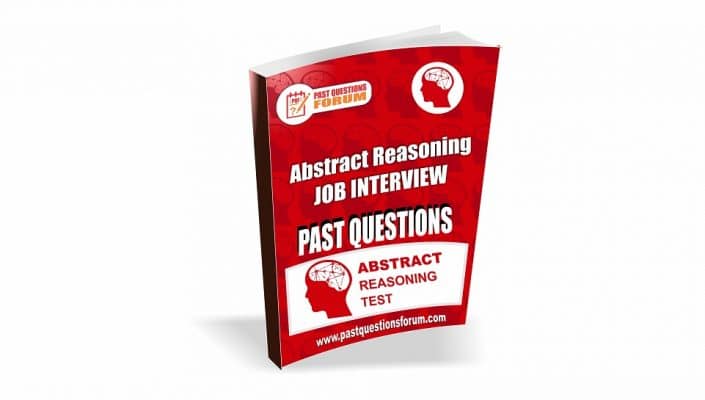 Abstract Reasoning Questions and Answers PDF
The Abstract Reasoning Aptitude Test Questions and Study Guide helps you better master the art of answering questions about the Abstract reasoning test.
You'll be given a series of shapes, words or diagrams for some questions and asked to predict what will come next in the sequence. It is also possible to ask you which one will replace the question mark. You will be given a group of images in some other query form, and then a specific image, then asked which group the image belongs to.
The rules are still always the same no matter the type of abstract reasoning question you are asked, the more you practice, the easier you get to learn the rules and the faster you find the right answers.
All the latest abstract reasoning test questions used by almost most businesses in their evaluation are also revealed in this study pack.
How to Get the Abstract Reasoning Aptitude Test Questions Study Pack
The updated compiled version of the Abstract Reasoning test questions has been uploaded here. To get the material, payment will be required. Simply hit the GET PAST QUESTION NOW button and you will directed to our secured payment option page where you will make payment.
After successful payment you will be given access to the abstract reasoning test free download.
DISCLAIMER
Pastquestionsforum is a global focused test-prep company. It is our duty to provide you with the most comprehensive study materials for your examination. Our study materials are focused on extensive analysis, input from previous test candidates, and, on occasion, official/privileged study materials made available by examination bodies and testing agencies.