Last Updated on January 4, 2023
Have you been invited to a UBA Job Aptitude Test? With this latest and updated past questions and answers, you can learn what to expect on the test and prepare faster. It is a comprehensive study guide that will assist you in mastering frequently asked aptitude test questions for the graduate entry job at the United Bank for Africa, UBA. Improve your chances of landing the job by practicing with authentic prior question papers. Download also: Access Bank Past Questions and Answers
United Bank for Africa (UBA)
United Bank for Africa Plc (UBA) is a Nigerian pan-African financial services firm that was created in 1949. The company's headquarters are in Lagos, Nigeria.
UBA has subsidiaries in 20 African countries as well as offices in some of the world's most prestigious cities, including London, Paris, and New York.
This premier bank group's financial assets are currently valued at NGN:5,604 billion (US$14.6 billion), with shareholders' equity of NGN:597.97 billion (US$1.56 billion) and a workforce of 13,355 people, 9,787 of whom are Nigerians.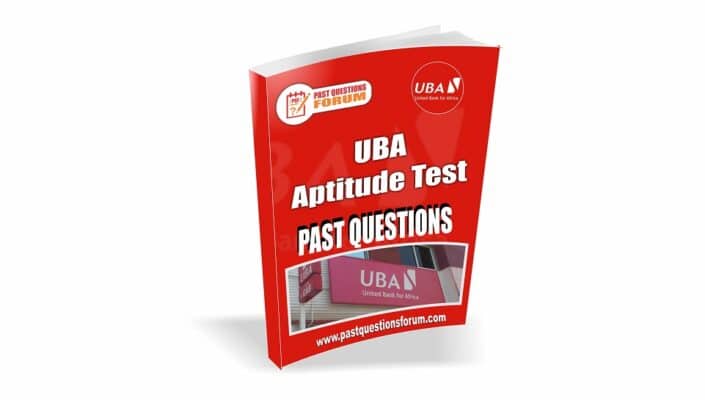 UBA Aptitude Test Past Questions and Answers
The UBA Graduate Job Aptitude Test Past Questions Study Pack will assist you in fully preparing for the exam. All previous and recent questions, as they appeared on the actual test, will be revealed.
There simply isn't enough time to prepare properly. This study pack is designed to help you streamline your practice time and ensure that you are focusing on the areas that are most important to you.
The format of the UBA employment aptitude test, like that of most bank aptitude tests, is determined by the role, level, and recruitment year. This UBA test study guide ensures that you have thoroughly covered all of the areas on which you will be evaluated.
Nature of UBA Job Interview Question
Aptitude tests are typically timed and come in a variety of formats, including numerical, verbal, abstract, spatial, mechanical, personality, and others. The faster (and more correct) you are, the better your chances of being shortlisted.
The format of UBA's aptitude tests varies frequently, but the pattern and test difficulty remain consistent. Numerical ability tests, Abstract reasoning tests, Verbal ability tests, and Diagrammatic reasoning ability tests are generally included.
It's also worth noting that the Bank employs a computer-based testing method. That implies that you must first be computer knowledgeable.
Candidates are expected to answer 100 questions in total. There are four sections in all. This means that applicants will be asked 25 questions from the Numerical Ability Test, the Abstract Reasoning Test, the Verbal Ability Test, and the Diagrammatic Reasoning Ability Test.
Why Do UBA Set Aptitude Test Interview Questions?
UBA Bank, like other businesses and organizations, uses aptitude testing as a tool for identifying candidates who are qualified to work for them.
Every year, the bank receives hundreds of applications for job openings. These applications are mostly from people with advanced degrees and even work experience, and if all of them are taken into account, the banking system will be clogged. They employ aptitude tests to filter applicants to avoid this, as well as to select the right candidates for the relevant roles.
This system allows them to receive the best applicant and saves time as well. The Aptitude test evaluates and assesses an applicant's performance in terms of how he or she thinks and reasons.
On the other hand, as an applicant, this is the only opportunity to express and demonstrate your abilities in order to determine if you will advance to the interview stage.
Free UBA Past Questions and Answers 2023 (Sample Question)
Below is a free version of the uba graduate trainee past questions. Note that the question below is just a sample question and not the complete material. The complete material can only be available after successful payment.
Question one What is the full meaning of UBA?
A. United Bank of Africa
B. United Bank for Africa
C. United Bank from Africa
D. United Bank of Africa
Question two The volume of a wall, 5 times as high as it is broad and 8 times as long as it is high, is
12.8 metre3. Find the breadth of the wall.
A. 120 cm
B. 160 cm
C. 38 cm
D. 40 cm
E. None of these
Question three What is the least number to be added to 4321 to make it a perfect square?
A. 32
B. 34
C. 36
D. 38
E. None of these
Question four At a car park there are 100 vehicles, 60 of which are cars, 30 are vans and the remaining are Lorries. If every vehicle is equally likely to leave, find the probability of car leaving second if either a lorry or van had left first:
A. 20/33
B. 19/33
C. 3/5
D. 2/5
E. None of the above
Question five If 9 men working 7.5 hours a day can finish a piece of work in 20 days, then how many days will be taken by 12 men, working 6 hours a day to finish the work? It is being given that 2 men of latter type work as much as 3 men of the former type?
A. 10.5
B. 11
C. 6
D. 13
E. 12.5
Question six Find the cost of carpeting a room 13 m long and 9 m broad with a carpet 75 cm wide at the rate of $ 12.40 per meter.
A. 1994.5
B. 1934.4
C. 2080.6
D. 1928.6
E. None of these
Question seven I a class of 60 boys, 45 like pizza, 30 like burger and 5 like neither. Find number of boys who like both?
A. 25
B. 20
C. 30
D. 15
E. None of these
Question eight What should come in place of question mark (?) in the following question? (38 × 256) ÷ (4096) =?
A. 2.375
B. 2.565
C. 2.25
D. 2.755
E. None of these
Question nine An equilateral triangle of side 3 inch each is given. How many equilateral triangles of side 1 inch can be formed from it?
A. 9
B. 15
C. 0
D. 6
E. None of these
Question ten What are the values of m and n?
i. n is an even integer, m is odd integer and m is greate
ii. The product of m and n is 30. A. 15, 2
B. 6, 5
C. Cannot be determined
D. Insufficient data
E. None of these
How to Get UBA Past Questions and Answers
To get the latest version of the UBA past questions and answers, kindly hit the GET PAST QUESTION NOW button, fill in your details, select a payment method and proceed to payment. After successful payment, the material will be sent to you immediately.
DISCLAIMER
Pastquestionsforum is a global focused test-prep company. It is our duty to provide you with the most comprehensive study materials for your examination. Our study materials are focused on extensive analysis, input from previous test candidates, and, on occasion, official/privileged study materials made available by examination bodies and testing agencies.