Last Updated on April 2, 2023
Get the latest version of the  ABInBev Past Questions and Answers here in a PDF format. Did you apply for a job at AB InBev? Do you need the AB InBev job interview questions? If yes, the solution to your search is here. We have compiled the most recent version of the ABInBev Job Interview Past Questions with detailed solutions for you consumption. All you need to do is, follow the easy steps on this page to grab your material. Download Also Abbey Mortgage Bank Interview Past Questions and Answers
About Anheuser-Busch InBev
Anheuser-Busch InBev SA/NV, commonly known as AB InBev, is a Leuven, Belgium-based multinational drink and brewing company. In New York City, AB InBev has a worldwide functional management office and regional offices in São Paulo, London, St. Louis, Mexico City, Bremen, Johannesburg, etc. In 150 countries, it has approximately 630 beer brands.
AB InBev was founded by purchasing Anheuser-Busch from the United States via InBev (itself a merger between Interbrew from Belgium and AmBev from Brazil).
A competitive all-cash bid to acquire British multinational rival SABMiller was announced by Anheuser-Busch InBev in October 2015; the merger was completed in October 2016. Also prior to SABMiller's takeover, it was the world's largest brewer and is considered one of the world's largest fast-moving consumer goods firms. The company's annual revenues in 2019 were US$52.3 billion; in 2016, ABInBev had realized US$45.5 billion in revenue prior to the merger. According to Euromonitor International, the firm is expected to have a 28 percent market share of global beer volume sales in 2017.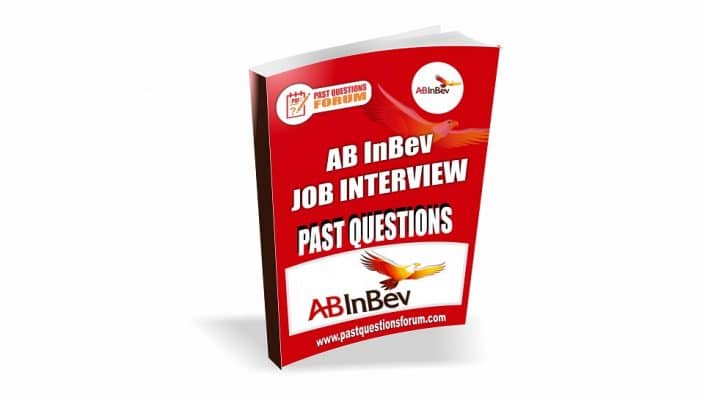 AB InBev Online Assessment Test Answers
The ABInBev Past Questions and answers is available here as said earlier. The material is not free of charge. We have made the price very affordable. It is highly important that all individuals who applied for a job at AB InBev get the ab inbev aptitude test aptitude test past questions as these will expose you to the nature on how AB InBev set their interview questions. The study pack you are about to purchase contains: Problem solving, numerical literacy, sentence correction, Vocabulary, Spelling, Clerical Accuracy, Executive code instructions. Follow the steps below to grab your copy.
How to Get the ABInBev Aptitude Tests Study Pack
In order to get the most recent version of the AB InBev Job Interview Past Question, click on the GET PAST QUESTION NOW button to proceed to our payment option page. The material will be sent to your email address after payment.
DISCLAIMER
Pastquestionsforum is a global focused test-prep company. It is our duty to provide you with the most comprehensive study materials for your examination. Our study materials are focused on extensive analysis, input from previous test candidates, and, on occasion, official/privileged study materials made available by examination bodies and testing agencies.