NCDMB Past Questions… The NCDMB Recruitment Aptitude Test Past Questions and answers is now available here for download in pdf format. All applicants who have applied for the NCDMB recruitment are all advised to get the NCDMB Recruitment Aptitude Test Past Questions and Answers while they prepare for the screening/interview examinations. Follow instructions below to get your material. Download also Workforce Past Questions and Answers
About Nigerian Content Development and Monitoring Board (NCDMB)
The Nigerian Content Development and Monitoring Board (NCDMB) was founded in 2010. The Nigerian Content Development and Monitoring Board (NCDMB) was founded by the Nigerian Oil and Gas Industry Content Development (NOGICD) Act. The Nigerian Content Development and Monitoring Board (NCDMB) is vested with the mandate to make procedures that will guide, monitor, coordinate and implement the provisions of the NOGICD Act signed into law on April 22, 2010.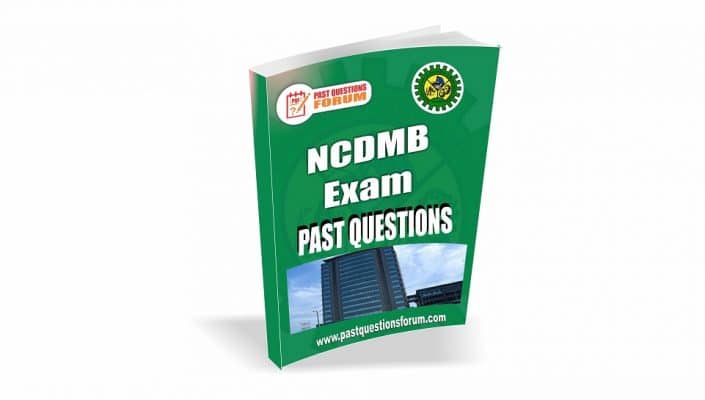 The NCDMB Past Questions and Answers
The NCDMB Aptitude test Past Questions and Answers if available for download on this page. All individuals who are interested in getting the material are advised to make payment to obtain the material. The NCDMB recruitment aptitude test questions kit comprise of Verbal Reasoning, Numerical Reasoning, History/Current Affairs, General Knowledge, Basic Oil and Gas Knowledge, Information Technology.
Question one DMA stands for……
A. Direct Memory Access
B. Distinct Memory Access
C. Direct Memory Allocation
D. Direct Module Access
Question two For $1.80 a grocer buys a case of fruit which contains 12 dozen. She knows that two dozen will spoil before she sells them. At what price per dozen must she sell the good ones to gain 1/3 of the whole cost?
A. 24 cents
B. 30 cents
C. 40 cents
D. 20 cents
Question three A boy is 5 years old and his sister is twice as old. When the boy is 8 years old, how old will his sister be?
A. 13
B. 16
C. 10
D. 12
Question four In the following set of words, which word is different from the others?
A. Troop
B. League
C. Participate
D. Pack
E. Group
Question five When was the Nigerian Local Content Act signed into law and under whose Administration….
A. April 2010 – Goodluck Ebele Jonathan
B. April 2008 – Umaru Musa Yar'Adua
C. October 2003 – Olusegun Obasanjo
D. June 2016 – Muhammadu Buhari
Question six CAPTURE is the opposite of ____
A. Place
B. Release
C. Risk
D. Venture
How to Get the NCDMB Past Questions and Answers 
To get the complete and updated version of this material, kindly hit the GET PAST QUESTION NOW button and you will be directed to our secured payment option page. Fill in your details and hit the place order button to make payment.
After successful payment, the material will be sent to your email address in a PDF format.
DISCLAIMER
Pastquestionsforum is a global focused test-prep company. It is our duty to provide you with the most comprehensive study materials for your examination. Our study materials are focused on extensive analysis, input from previous test candidates, and, on occasion, official/privileged study materials made available by examination bodies and testing agencies.