Last Updated on January 2, 2023
GTBank Past Questions and answers has been uploaded on this page. Did you apply for GTBank recruitment, and need the GTBank  interview questions? the solution to your search ends here. Follow instructions on this page to make a stress free download of GTBank aptitude test Past Questions and answers. Also Download Zenith Bank Recruitment Past Questions
Guaranty Trust Bank PLC, GTBank
Guaranty Trust Bank PLC also known as GTBank or simply GTB is a multinational Nigerian financial institution that offers online / internet banking, retail banking, corporate banking, investment banking and asset management services, The Guaranty Trust Bank, GTBank has her head office located in Victoria Island, Lagos.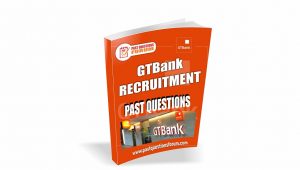 Features of GTBank Recruitment Past Questions
Current Affairs
Graphical Interpretation
History
Numerical Reasoning
Verbal Reasoning
GTBank Recruitment Past Questions and Answers
The GTBank Past Questions and answers is a compilation of past GTBank interview questions held and conducted by GTBank during the past interview examinations. The latest version of the GTBank aptitude test past questions has been uploaded on this page. Follow below to see how to get GTBank Assessment Questions. Note that this material is not free and will be sent to you in PDF format after payment. Below are some GTBank sample questions.
Question one Read the following information carefully and answer the questions, which follow:
'A – B' means "A is father of B'.
'A + B' means 'A is daughter of B'.
'A ÷ B' means 'A is son of B'.
'A x B' means 'A is wife of B'.
In each question below are three statements followed by three conclusions numbered I. II and III. You have to take the three given statements to be true even if they seem to be at variance from commonly known facts and then decide which of the given conclusions logically follows from the three given statements disregarding commonly known facts. Then decide which of the answers 1), (2), (3), 4) and (5) is the correct answer.
Question two Statements: Some tables are chairs. All chairs are houses. All houses are tents.
Conclusions: I. All houses are chairs. II. Some tents are chairs.
III. Some houses are tables.
A Only I and II follow
B Only I and III follow
C Only II and III follow
D All I, II and III follow
E None of these
Question three How is P related to T in the expression P + S – T '?
A Sister
B Wife
C Son
D Daughter
E None of these
Question four If the digits in the number 86435192 are arranged in ascending order, what will be the difference between the digits which are second from the right and fourth from the left in the new arrangement?
A One
B Two
C Three
D Four
E None
Question five If it is possible to make only one meaningful word with the First Second. Third and Filth letters of the word TECHNOLOGY which of the following would be the third letter of that word ? If no such word can be made, give 'X' as your answer and if more than one such word can be formed, give your answer as 'Y'.
A C
B T
C N
D X
E Y
Question six If five is subtracted from each of the numbers, which of the following numbers will be the difference between the second digit of second highest number and the second digit of the highest number?
A Zero
B 3
C 1
D 4
E 2
How to Get the GTBank Past Questions and Answers
To get the updated version of the updated version of the Guaranty Trust Bank, GTBank, click on GET PAST QUESTION NOW button and proceed to payment option page to make payment.
Payments can be archived either by bank transfer or with ATM Debit card online. After successful payment, the past question will be sent to your email address in PDF format for download.
Kindly rate our products and leave a review in the review tab. We use these information to make improvements in our products and services.
DISCLAIMER
Pastquestionsforum is a global focused test-prep company. It is our duty to provide you with the most comprehensive study materials for your examination. Our study materials are focused on extensive analysis, input from previous test candidates, and, on occasion, official/privileged study materials made available by examination bodies and testing agencies.