Last Updated on March 17, 2022
Zenith Bank Past Questions and answers has been uploaded on this page (i.e the latest version) You can now get your copy of the Zenith Bank Aptitude test Past Questions and answers easily with just one click. We have provided a stress free access to download the Zenith Bank interview questions. All individuals who have participated in the Zenith Bank recruitment exercise are strictly advised to get their copies of this past question. Note that all answers to the questions are contained in the material. Also Download Fidelity Bank Recruitment Past Questions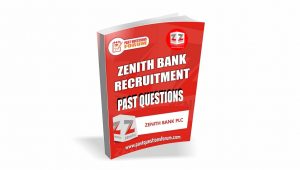 Benefit of Zenith Bank Past Questions Interview Questions
The Zenith Bank interview question is so important to applicants preparing for the Zenith Bank interview test/examination. It should be noted that this past question is a compilation of the past Zenith Bank Recruitment Past Questions conducted by Zenith Bank during their past interviews. Individuals who get a copy of this past question is likely to pass the interview exams.
Note that this material has been recently updated
Features of Zenith Bank Past Questions
Common Knowledge
Comprehension
Current Affairs
History
Numerical Reasoning
Sentence Completion
Verbal Reasoning
Zenith Bank Past Questions And Answers 2022
Below are some sample questions regarding Zenith Bank interview. To get the full version of this past question, follow the easy steps below. Note that this past question is not free of charge. This material will be sent to you in PDF format only via the provided email address.
Question one We are proud to say that today _____26 per cent of our total accounts are_____by women and senior citizens.
(A) approximate, held
(B) nearly, authorized
(C) over, maintain
(D) above, open
(E) around, operated
Question two The current year's entry level graduate salaries for working in logistics and retail are £25,000 and £24,000 respectively. If these sectors experience the same percentage change as the legal sector over the same period, what's next year's predicted entry level graduate salary in the logistics and retail sectors (to the nearest £100)?
(A) £24,800 (logistics); £25,800 (retail)
(B) £25,100 (logistics); £25,300 (retail)
(C) £25,500 (logistics); £25,000 (retail)
(D) £25,800 (logistics); £24,800 (retail)
(E) Can't tell from data
Question three In Year 3 a company paid the average entry graduate starting salaries when recruiting 15 graduates for a consultancy role and 6 graduates for a research role. What was the average salary per recruited graduate?
(A) £26,000
(B) £26,114
(C) £26,429
(D) £26,500
(E) £27,000
Question four Which sector has seen the smallest percentage increase in graduate entry level salary between Year 2 and the Current Year?
(A) Engineering
(B) Research
(C) Consulting
(D) Legal
(E) Accounting
Question five Assume that the percentage change trends between the Current Year and Next Year continue at the same rate for a subsequent year. What's the subsequent year's average entry level graduate salary across the 5 sectors (to the nearest £500)?
(A) £28,000
(B) £28,500
(C) £29,000
(D) £29,500
(E) Can't tell from data
How to Download Zenith Bank Recruitment Past Questions
To get the latest version of this interview questions, simply click on the GET PAST QUESTION NOW button and proceed to payment option page to make payment. Payments can be made either by bank transfer or using your ATM debit card online.
After making a successful payment, a download link will be sent to your email address. Kindly click on the link to download. After downloading, kindly submit a rating and drop a review on our product and services. We use this information to improve in our services.
DISCLAIMER
Pastquestionsforum is a global focused test-prep company. It is our duty to provide you with the most comprehensive study materials for your examination. Our study materials are focused on extensive analysis, input from previous test candidates, and, on occasion, official/privileged study materials made available by examination bodies and testing agencies.