Last Updated on October 19, 2022
NNPC Past Questions and answers… We are glad to introduce to you the Nigerian National Petroleum Corporation past questions and answers for download in PDF format. Applicants who wish to work in the Nigerian national Petroleum Corporation NNPC can now get a copy of the past questions and answers in preparation for the NNPC Screen / Interview Examinations. Note this material will be sent in a PDF format after successful payment.
About the Nigerian National Petroleum Corporation NNPC
The Nigerian National Petroleum Corporation (NNPC) is the state oil corporation which was established on April 1, 1977. In addition to its exploration activities, the Company was granted powers and operational interests in the transportation and marketing of refining, petrochemicals and goods. NNPC developed refineries in Warri, Kaduna and Port Harcourt between 1978 and 1989 and took over the 35,000-barrel Shell Refinery that was established in Port Harcourt in 1965.
The NNPC was marketed into Strategic Business Units in 1988, covering the entire range of operations of the oil industry: exploration and production, exploitation of gas, manufacturing, distribution, petrochemicals, engineering and commercial investment.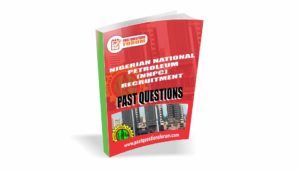 NNPC Recruitment Past Questions and Answers 2021
The Nigerian National Petroleum Corporation NNPC Recruitment Past Questions and Answers has been fully complied and updated to the latest version for your consumption. Did you apply for a job position at the Nigerian National Petroleum Corporation. Do you need an expo for your preparation towards the NNPS Interview examination? If yes, you have arrived the right page. We make it our point of duty to keep compiling past questions and study packs to make exam preparation easy for individuals.  We have also posted a free version of the NNPC Recruitment Past Questions below.
Nature of NNPC Recruitment Test / Examination
Before the Nigerian National Petroleum Corporation (NNPC) hires you, you must pass their recruiting exam. This is however taken by all shortlisted candidates seeking to fill different NNPC vacancies.
The NNPC recruitment questions is usually a computer based test (CBT). So, you just have to know how to take the test using a computer.
In addition, you can see the same subjects covering the field of research you have applied for. Mathematics, English language, current affairs, and computer-based questions are typically answered by questions.
In one hour, you'll have to answer 60 questions. Furthermore, do not forget that this is a CBT (Computer Based-Test). So, if you're wasting so much on a topic, then you're not going to finish on time.
This is because the time is read on the screen, and after it stops reading, the questions are sent online automatically.
Why Should you Get the NNPC Recruitment Past Questions
As we all know, proper preparation prevents poor performance. Having good knowledge of the nature of an examination before going in for that examination is what you should think of. The NNPC Past Questions here exposes previous questions from the Nigerian National Petroleum Corporation and gives you an insight on how NNPC do set their questions. You will also get to know the total number of questions you are going in for.
FREE NNPC Recruitment Past Questions (Sample Questions)
A free version of the Nigerian National Petroleum Corporation Past Questions has been posted below. You can go through the free version of the material and ensure that you make payment to get access to the complete version of this material. Note that this material is only available in a PDF version.
1) In an office there was a small cash box. One day Ann took half of the money plus $1 more. Then Dan took half of the money plus $1 more. Stan then took the remaining $11. How many dollars were originally in the box?
A.$50 B. $45
C.$42
D.$40 E. $38
Solution
You can avoid some massy algebra by working backwards. Put back the $11 Stan took; then put back the extra $1 that Dan took. There is now $12, which means that, when Dan took his half, he took $12. Put that back. Now there is $24 in the box. Put back the extra $1 that Ann took. The box now has $25, so before Ann took her half, there was $50. The answer is ($50).
---
2) Each of the 10 players on the basketball team shot 100 free throws, and the average number of baskets made was 75. When the highest and lowest scores were eliminated the average number of baskets for the remaining 8 players was 79.What is the smallest number of baskets anyone could have made?
A.22
B. 20
C.18
D.16
E. 14
Since the average of all 10 players was 75, the total number of baskets made was 10 × 75 = 750. Also, since 8 of the player had an average of 79, they made a total of 8 × 79 = 632 points. The other 2 players, therefore, made 750- 632 = 118 baskets. The most baskets that the player with the highest number could have made was 100, so the player with the lowest number had to have made at least 18. The answer is 18.
---
3) Karen played a game several times. She received $5 every time she won and had to pay $2 every time she lost. If the ratio of the number of times she won to the number of times she lost was 3:2, and if she won a total of $66, how many times did she play the game?
A.30
B.35
C.40
D.45
E.48
Karen won 3x times and lost 2x times, and thus played a total of 5x games. Since she got $5 every time she won, she received $5(3x) = $15x. Also, since she paid $2 for each loss, she paid out $2(2x) = $4x. Therefore, her net winning were $15x – 4x = $11x, which you are told was $66. Then, 11x = 66 ⇒ x = 6, and so 5x = 30.
The answer is 30
---
4) Since 1950, when martin graduated from high school, he has gained 2 pounds every year. In 1980 he was 40% heavier than in 1950. What percent of his 1995 weight was his 1980 weight?
A.80
B.85
C.87.5
D.90
E.95
Solution
Let x = Martin's weight in 1950. By 1980, he had gained60 pounds (2 pounds per year for 30 years) and was 40% heavier:
60 = 0.40x x = 60 ÷ 0.4 = 150. In 1980, he weighed 210 pounds, 15 years later, in 1995, he weighed 240:
210/240= 7/8= 87.5%. The answer is C.
---
How to Get The NNPC Past Questions and Answers
To get the Nigerian National Petroleum past questions and answers simply hit the GET PAST QUESTION NOW button, fill in your personal details and click on the place order button to make payment. After successful payment, the material will be sent to your email address in a PDF format.
DISCLAIMER
Pastquestionsforum is a global focused test-prep company. It is our duty to provide you with the most comprehensive study materials for your examination. Our study materials are focused on extensive analysis, input from previous test candidates, and, on occasion, official/privileged study materials made available by examination bodies and testing agencies.