Last Updated on January 2, 2023
You can now download the WAEC Recruitment Past Questions and Answers on this page. The West African Examination Council (WAEC) recruitment past questions and answers is available here. All you need to do is follow all steps on the page to download the WAEC recruitment past questions. Scroll down to see how to download WAEC Recruitment Aptitude Test Past Questions and Answers. Download FIRS Recruitment Past Questions And Answers
West 

African 

Examinations 

Council (WAEC)
The West African Examinations Council is an examination board set up by law to decide the examinations needed in the public interest of the English-speaking West African countries, to administer the examinations and to grant globally comparable certificates to those of similar examination authorities.
Waec was founded: 1952
Waec Headquarters is located at: Lagos
Key Features of Waec Recruitment Past Questions
General Knowledge and Current Affairs/History
Logical Reasoning
Quantitative Reasoning
Verbal Reasoning
Benefits of WAEC Recruitment Past Question
It is clearly known that before one gets in for an examination, proper preparation is highly necessary. Your preparation towards an examination determines your success in that examination. Therefore if you had taken part in the WAEC recruitment, is highly recommended that you get the WAEC past questions and answers. This past question is gotten from the past WAEC recruitment interview questions. By going through these questions, you will get to know how WAEC interview question looks like and you will now know the areas which you should cover while preparing the the interview/test. See how to download below ↓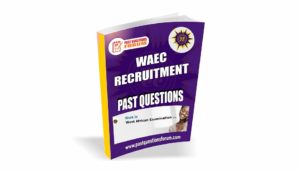 WAEC Recruitment Aptitude Test Past Questions and Answers 2022
Below are some sample question gotten from the Waec recruitment aptitude test past questions and answers. To get the complete version of these past question, simply make payment and get it directly in your mail box.
Question one Which of the following pairs have the same relationship as OFTEN : FOTNE?
A HEART : TRAHE
B OPENS : SNEOP
C RISKY : IRSYK
D FIRST : IFRST
E None of these
Question two All G's are H's
2. All G's are J's or K's
3. All J's and K's are G's
4. All L's are K's
5. All N's are M's
6. No M's are G's
Question three If no P's are K's, which of the following must be true?
a All P's are J's
b No P is a G
c No P is an H
d If any P is an H it is a G
e If any P is a G it is a J
Question four The major reason why government sets up public corporations is to
A. make profit
B. provide employment for politicians
C. provide utility service to the public at minimal costs
D. reflect the federal character in sitting industries
E. help businessmen
Question five Which of the following can be logically deduced from the conditions stated?
a No M's are H's
b No M's that are not N's are H's
c No H's are M's
d Some M's are H's
e All M's are H's
Question six The universal adult suffrage means all
A. adult citizen can vote
B. citizens can vote
C. qualified citizens can vote
D. literate citizens can vote
E. Male can vote
How to Download WAEC Recruitment Aptitude Test Past Questions and Answers PDF
The WAEC Recruitment Aptitude Test Past Questions and Answers is so easy to download from this website we have made things so easy that you can now pay for your past question using your ATM card online. All you need to do is click on GET PAST QUESTION NOW button and proceed to payment option page to make payment.
Payment Options 
Payments can be made using your ATM card online and you can also select bank transfer payment option if you want to do a direct bank transfer. You can as well copy the account details on this site to the bank for payment.
After a successful payment, kindly rate our products and services and tell us how satisfied you are purchasing from our platform. We respect your reviews and you reviews is what we use to improve on our products and services 
DISCLAIMER
Pastquestionsforum is a global focused test-prep company. It is our duty to provide you with the most comprehensive study materials for your examination. Our study materials are focused on extensive analysis, input from previous test candidates, and, on occasion, official/privileged study materials made available by examination bodies and testing agencies.