NDLEA Past Questions and Answers…. How to get the National Drug Law Enforcement Agency past questions and answers. the NDLEA past questions is available here. Individuals can now get their self a copy of the National Drug Law Enforcement Agency Past Questions easily and fast.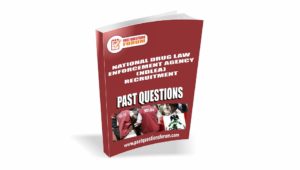 Question one Which Country Locks Up the Most People for Drug Law Violations (In Total and Per Capita)?
A) Russia
B) China
C) Mexico
D) United States
---
Question two What is meant by "tolerance" to a drug?
A. A person has continual cravings for the drug
B. Tolerance refers to giving people the choice to take any drugs they wish
C. More and more of the drug is needed to produce the same high
D. The urge to try new types of drugs
---
Question three Which of these brain parts plays the most important part in your emotional behaviour?
A. Cerebellum
B. Thalamus
C. Amygdala
D. Brain stem
---
How to Get the National Drug Law Enforcement Agency Past Questions
The past question of the NDLEA will be sent to you after making your payments. Simply add your desired past question to chart and continue to check out to complete your purchase.
Question four What does marijuana come from?
A. A root
B. A chemical
C. A plant
D. A mushroom
---
Question five  How can smoking marijuana regularly be especially harmful to teens?
A. It lowers your IQ
B. Smoking can affect your ability to drive safely
C. It can make you less motivated to do well in school
D. All of the above
---
Question six What is the most commonly used illicit drug?
A. Marijuana
B. Heroin
C. Ecstasy
D. Cocaine
---
Question seven Which of these statements is true?
A. Drugs enhance your creativity
B. Drugs can give you a temporary "high," but when it wears off the crash is lower than before
C. A drug will remove your fears and make life more pleasant
D. A drug takes years to become dependent on drugs
---
Question eight What are some of the symptoms of drug dependence?
A. Increased heart rate
B. Depression and craving for more of the drug
C. Loss of appetite
D. Flashbacks
---
Question nine America's Longest War Was:
A. Civil War
B. Vietnam
C. Afghanistan
D. Drug War
---
Question ten The chemical in marijuana that causes the high is:
A. Nicotine
B. THC
C. MDMA
D. TER
Your reviews are highly appreciated.