Last Updated on May 14, 2022
First Bank Aptitude Test Past Questions (First Bank Past Questions and Answers)… Get the latest version of the First Bank Ltd Recruitment Test Study Questions And Answers for 2022. It is important to note that the First Bank of Nigeria usually conduct series of screening tests before accepting individuals to work in the First Bank of Nigeria Plc. We make it our duty to gather these questions for the past years and compile them so you have an insight on how First Bank do conduct their screening test/examinations. This page has a complete version of the First Bank Past Questions. Get your copy now.
About First Bank of Nigeria Ltd
First Bank of Nigeria Limited (First Bank) is West Africa's premier bank, with its influence woven into the fabric of society. The Bank, which has sustained its development-oriented services for more than 126 years as the leading provider of financial inclusion services in the country, provides a wide range of retail and corporate financial services to over 17 million customer accounts across more than 57,000 business outlets.
First Bank is one of the most enduring financial services brands in Africa, as a national icon and multinational player, with an international presence expanding across its branches, FBN Bank (UK) Limited in London and Paris, FBN Bank in the Republic of Congo, Ghana, Gambia, Guinea, Sierra Leone and Senegal, as well as its Beijing representative office.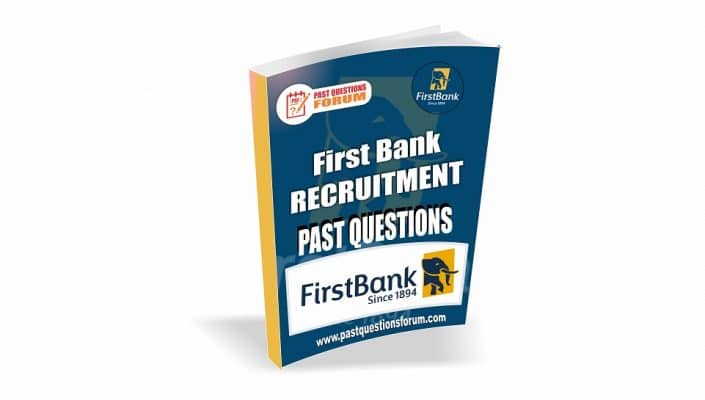 Nature of First Bank Aptitude Test
It is important to know the nature of the First Bank of Nigeria interview test before attempting the test. The First Bank of Nigeria Ltd Screening test is actually a Computer Based Assessment (CBA). The questions are actually divided into different categories which are: Critical Reasoning, Verbal reasoning, Abstract Reasoning, Numerical Reasoning.
You will face 80 questions during the aptitude exam, which you have to complete in 60 minutes. This implies that you have 45 seconds to respond to each question.
There are simple, but rational, quantitative problems in numerical reasoning, whereas verbal reasoning is not different from many standard aptitude tests. Basically, the critical reasoning portion checks the ability to recognise patterns, and, ultimately, the last abstract reasoning.
FBN Past Questions and Answers PDF 2022
The First Bank of Nigeria, FBN Aptitude test questions and answers is available here. The material is actually a downloadable PDF document which contains questions and answers from the First Bank of Nigeria. The study pack has been compiled and updated to the latest version. A free version of the First Bank Screening Exam Past Questions has been posted on this below. Ensure that you make payment to get the complete version of this material.
Free First Bank Aptitude Test Past Questions (Sample Questions)
Below is a free version of the First Bank Recruitment past questions, To get the complete and updated version of this Bank Past Questions, simply make payment to get complete access.
Question one If the temperature is too low, crude oil remains in a solid state, whereas if it is too hot, it becomes a gas.
A. True
B. False
C. Can not tell
Question two Crude oil is non-renewable.
A. True
B. False
C. Can not tell
Question three Kerogen becomes crude oil after further heating and pressurisation in the catagenesis process.
A. True
B. False
C. Can not tell
Question four The creation of crude oil takes place over many 100 000s of years.
A. True
B. False
C. Can not tell
Question five Oil can also be produced from plant matter such as olives and sunflower seeds.
A. True
B. False
C. Can not tell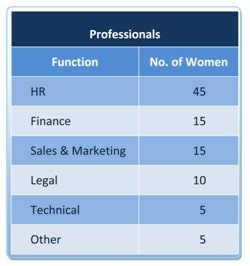 Question six How many females are employed in professional positions?
A. Can't tell
B. 100
C. 95
D. 297
Question seven What are women in HR as a fraction of men in professional grades?
A. 285/45
B. 3/19
C. 1/6
D. 45/295
Question eight What fraction of women that are in managerial positions are Heads of Department?
A. 2/11
B. 11/2
C. 2/27
D. 2/360
Question nine How many of the staff in professional and managerial positions are males?
A. 122
B. 211
C. 333
D. 188
Question ten What is the total amount of people employed in professional positions in the firm?
A. 95
B. 285
C. 380
D. 420
How to Get the FBN, First Bank Interview Questions and Answers
The latest version of the First Bank past questions is available here. To get your copy, kindly hit the GET PAST QUESTION NOW button above and you will be directed to our secured payment page. Kindly fill in your details and make payment. After successful payment, the material will be sent to your email address in a PDF format.
DISCLAIMER
Pastquestionsforum is a global focused test-prep company. It is our duty to provide you with the most comprehensive study materials for your examination. Our study materials are focused on extensive analysis, input from previous test candidates, and, on occasion, official/privileged study materials made available by examination bodies and testing agencies.