Last Updated on January 4, 2023
Exam preparation with past questions is usually beneficial. Past questions are useful for exam preparation because they give you practical insight into how the assessment body designs their exams, how the exam you're prepared for might look, and what important themes or subject areas are likely to be covered. This pages brings you the official JAMB Commerce Past Questions in a PDF format.
To do well in the JAMB Commerce exams, you must prepare thoroughly. This is why it is critical for JAMB exam applicants to practice with JAMB past questions. You can access the JAMB English past questions and answers here. You can go over them again to see what you know and what you don't.
You can select JAMB PAST QUESTIONS for other subjects to view previous questions and begin studying.
Jamb Commerce Past Questions and Answers 2023
Our Jamb / UTME Past Questions and Answers For Commerce are compiled from a large number of previous written exams administered by the Joint Admissions and Matriculation Board. The Joint Admission and Matriculation Board (JAMB) was originally known as the Joint Admission and Matriculation Examination (JAMB), but it is now known as the Unified Tertiary Matriculation Examination (UTME) (UTME). Since every student has a smartphone these days, our goal is to provide convenient access to these vital tools, which can help you achieve.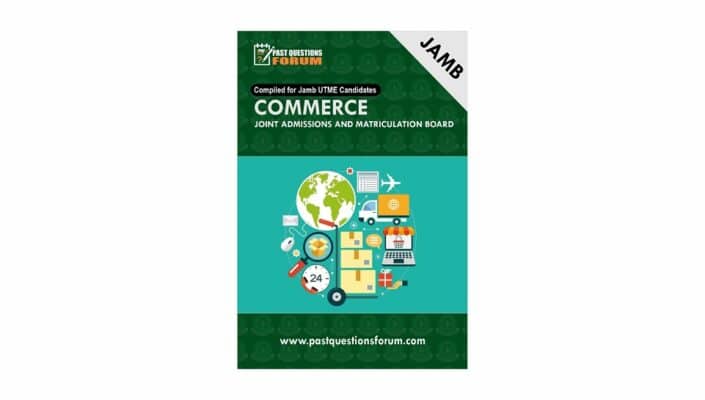 Free Jamb Commerce Past Questions (Sample Questions)
Below are Commerce sample questions from the Joint Admissions and Matriculations Board UTME examination. This is just a preview of what the question looks like. The complete material will be available for download after you have clicked the GET PAST QUESTION NOW button
Question one Which of the following will not be stated in a Memorandum of Association?
A. Name clause
B. rights of shareholders
C. object clause
D. registered office
Question two The amount of authorized capital that shareholders have subscribed to is
A. issued share capital
B. authorized share capital
C. owner's equity
D. working capital
Question three The rate of turnover of a firm in a given year is 5 times while the average stock is ₦12,500. What is the turnover of the firm?
A. ₦24,000
B. ₦46,500
C. ₦62,500
D. ₦65,000
Question four A lawyer that defrauds his client may be derobed by the Nigerian Bar association in order to
A. protect other lawyers
B. protect the integrity of the association
C. compensate the affected client
D. prevent the client from suing the association
Question five In the Nigerian GSM industry, a parliament is organized by the Nigerian Communications Commission in order to
A. increase profit of service providers
B. protect the interest of government
C. encourage more people into the business
D. protect the interest of consumers
Question six Trade fairs in Nigeria are organised by
A. the Federal Government
B. Manufacturers" Association of Nigeria
C. Ministry of Commerce and Industry
D. Chambers of Commerce
Question seven Money is generally accepted for transactions due to
A. the legal backing
B. the rule of law
C. its acceptability in the global market
D. the Central Bank Governor's signature
Question eight Which of the following is a quality of money?
A. Availability
B. Scarcity
C. Indivisibility
D. Convertibility
How to Get the JAMB Use of Commerce Past Questions and Answers
You are one step away from getting your material. Kindly hit the GET PAST QUESTION NOW button, fill in your details at the checkout page and hit the place order button.
Your download will be available immediately after completing the process
Cheers!
DISCLAIMER
Pastquestionsforum is a global focused test-prep company. It is our duty to provide you with the most comprehensive study materials for your examination. Our study materials are focused on extensive analysis, input from previous test candidates, and, on occasion, official/privileged study materials made available by examination bodies and testing agencies.