Last Updated on January 4, 2023
JAMB CRK Past Questions. Exam preparation with past questions is usually beneficial. Past questions are useful for exam preparation because they give you practical insight into how the assessment body designs their exams, how the exam you're prepared for might look, and what important themes or subject areas are likely to be covered. This pages brings you the official JAMB CRK Past Questions in a PDF format.
To do well in the JAMB CRK exams, you must prepare thoroughly. This is why it is critical for JAMB exam applicants to practice with JAMB past questions. You can access the JAMB CRK past questions and answers here. You can go over them again to see what you know and what you don't.
You can select JAMB PAST QUESTIONS for other subjects to view previous questions and begin studying.
Jamb CRK Past Questions and Answers 2023
Our Jamb / UTME Past Questions and Answers For CRK are compiled from a large number of previous written exams administered by the Joint Admissions and Matriculation Board. The Joint Admission and Matriculation Board (JAMB) was originally known as the Joint Admission and Matriculation Examination (JAMB), but it is now known as the Unified Tertiary Matriculation Examination (UTME). Since every student has a smartphone these days, our goal is to provide convenient access to these vital tools, which can help you achieve.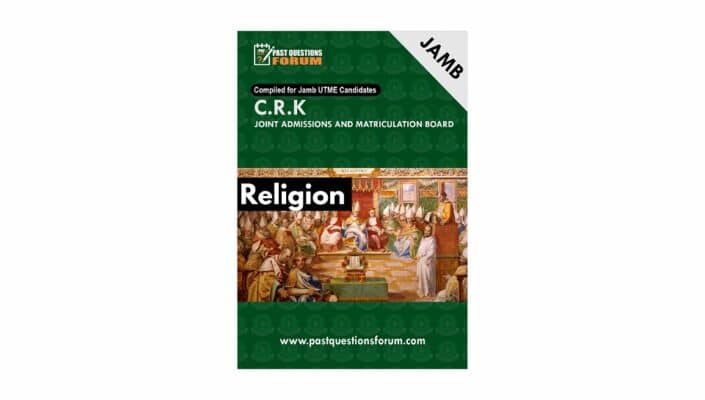 Free Jamb CRK Past Questions (Sample Questions)
Below are CRK sample questions from the Joint Admissions and Matriculations Board UTME examination. This is just a preview of what the question looks like. The complete material will be available for download after you have clicked the GET PAST QUESTION NOW button
Question one David demonstrated his submission to the will of God when he
A. lamented the death of Saul and Jonathan
B. prevented the killing of Saul
C. took Bathsheba as his wife
D. received Abner in Hebron.
Question two When David repented of his adultery with Bathsheba, he said,
A. "I have done wrong…"
B. "I have sinned against the Lord"
C. "Have mercy on me.."
D. "The man who has done this deserves to die…"
Question three "The Lord has set the sun in the heavens, but has said that he would dwell in thick darkness…"
A. law giving at mount sinai
B. dedication of Solomon's temple
C. crossing of the Red Sea
D. ten plagues of Egypt.
Question four In the first three chapters of the Book of Hosea, his main teaching is that
A. one can marry a harlot
B. God loves us despite our sins
C. one should forgive others
D. one should keep the commandments of God.
Question five The valley of Achor in the Book of Hosea is a door of
A. love
B. hope
C. peace
D. wisdom.
Question six "Come, let us return to the Lord; for he has torn, that he may heal us; he has stricken, and I he will bind us up."
This call is to encourage
A. response to God's love
B. concern for one's nation
C. social justice and true religion
D. response to the need of the nation.
Question seven With reference to prophet Isaiah vision, which of the following attributes must a minister of God possess?
A. Dedication
B. Knowledge
C. Anointing
D. Holiness.
Question eight What did God give to Ezekiel to eat in his vision?
A. Scroll
B. bread
C. Manna
D. Burning coal.
Question nine Jesus was baptized by John the Baptist
A. to fulfil the prophecy about Him
B. so that the heavens could open up blessings for all believers
C. to fulfil all righteousness
D. so that the Holy Spirit could descend upon Him
Question ten "Thou art my beloved Son; with thee I am well pleased." This statement was made during the
A. transfiguration
B. ascension
C. holy week
D. baptism.
How to Get the JAMB Use of Christian Religious Knowledge Past Questions and Answers
You are one step away from getting your material. Kindly hit the GET PAST QUESTION NOW button, fill in your details at the checkout page and hit the place order button.
Your download will be available immediately after completing the process
Cheers!
DISCLAIMER
Pastquestionsforum is a global focused test-prep company. It is our duty to provide you with the most comprehensive study materials for your examination. Our study materials are focused on extensive analysis, input from previous test candidates, and, on occasion, official/privileged study materials made available by examination bodies and testing agencies.