Description
Civil Defence Recruitment Past Questions and Answers is now available. If you are looking for civil defence past questions and answers and you are on this page, then the solution to your problem is here. On this page, you will get the latest version of the Nigerian Security Civil Defence Commission, NSCDC recruitment past questions and answers.
The NSCDC Past Questions has a lot of advantages. Individuals who get their copies of the NSCDC past questions can boldly say that they have prepared for the screening examination. Getting the complete past question on civil defence is the only guarantee to pass the Civil Defence screening examination.
NSCDC Recruitment Past Questions and Answers
The NSCDC past questions and answers is a complete guide for individuals who wish to pass the Civil Defence Aptitude test interview test. Therefore it is mandatory that individuals who have participated in the Nigerian Security and Civil Defence Corps recruitment should get the complete past question on civil defence.
This past question comprises of the following key features
English language
Mathematics
Current Affair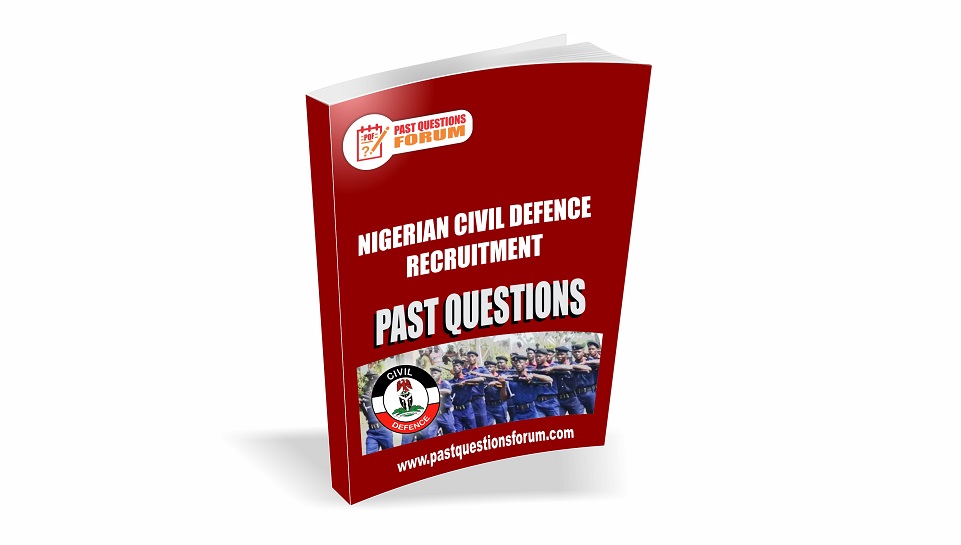 Civil Defence Sample Questions
Question one The liberation stadium is located in……
A. Lagos
B. Abuja
C. Ibadan
D. Port Harcourt
Question two Who is on the face of 100 naira note……
A. Nnamdi Azikiwe
B. Alhmadu Bello
C. Obafemi Awolowo
D. Murtala Mohammed
Question three Which of this state is regarded as the home of solid minerals?
A. Ekiti
B. Plateau
C. Kano
D. Nassarawa
Question four When was the first year NECO examination took place…..
A. 1996
B. 2000
C. 1986
D. 2005
Question five Who was the first governor of Central Bank of Nigeria?
A. A.A. Mai-Bornu
B. Dr. C. Isong
C. Sanusi Lamido Sanusi
D. Charlse Soludo
Question six The House of Representatives is many up of how many members
A. 108
B. 774
C. 360
D. 180
Question seven What is the slogan of MTN
A) Everywhere you go
B) Rule your world
C) Now you are talking
D) Talk the talk
How to Get the Civil Defence Past Questions
Note the civil defence past questions and answers will be sent to the email address provided after making your payment. Simply click on the GET PAST QUESTION NOW button above and make payment either by bank transfer or with the use of your ATM debit card. After a success payment the past question will be sent to you through your email address in PDF format for download.
What to Do After Getting Your Past Questions
After getting the complete past question simply proceed further by rating our products and services and leave a review as well in the review tab above.
Civil Defence Frequently Asked Questions
Get in Touch With Other Past Questions