Description
AAU Post UTME Past Questions and how to download… This page brings you full guidelines on how to download the Ambrose Ali University past questions and answers fast and easily in PDF format. You will also be prevailed to get the complete and updated version of the Ambrose Ali University post UTME past questions and answers.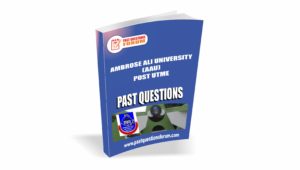 AAU Post UTME Sample Questions
1. Once power is legitimized it converts to
A. absolute power
B. corruption
C. authority
D. influence
---
2. Influence diverges from power in that
A. power alone is transitive
B. influence does not involve decision makers whole power dies
C. power is potential while influence is over
D. influence depends on someone else to take the decision
---
3. According to Max Weber, rules and regulations constitute the bureaucracy
A. main reason for the existence
B. main problem
C. red-tapism
D. main explanation for the bottlenecks
---
4. The relationship between history and political science is while political science is the fruit of history; history is the of politics
A. Root
B. stern
C. flower
D. mirror
---
5. Chanson is term donating
A. song from middle age
B. poem of varied metrical form
C. popular Korean verse
D. form of love song
---
6. The moment of recognition of truth when ignorance gives way to knowledge in a character is known as
A. Anagnorisis
B. Hamartia
C. Anamnesis
D. Hubris
---
7. A final stanza a poem that is shorter than the preceding one is called
A. Iron
B. epanalepsis
C. antithesis
D. Envoi
---
8. The part of a play when a climax approach is known as
A. protasis
B. epitasis
C. catastasis
D. catharsis
---
9. An anti-society action taken by the tragic hero which results to catastrophe is called
A. anagnorisis
B. premonition
C. hamartia
D. empathy
---
10. Hall to them, blithe spirit! Bird thou wert,
That from heaven, or near it,
In profuse strains of unpremeditated art.
The main figure of speech in this passage is
A. apostrophe
B. hyperbole
C. euphemism
D. metonymy
Hot to Get the Ambrose Ali University Post UTME Past Questions
To get a copy of the Ambrose Ali University, simply make payments and proceed to check out to complete your purchase.