Last Updated on January 25, 2021
Noun Past Questions For BUS428 – BUSINESS POLICY AND STRATEGY II. Locate the download button below to download the Noun Past Questions for BUS428 – BUSINESS POLICY AND STRATEGY II.
---
NATIONAL OPEN UNIVERSITY OF NIGERIA
91, CADASTRAL ZONE, UNIVERSITY VILLAGE, JABI, ABUJA FACULTY OF MANAGEMENT SCIENCES
DEPARTMENT OF BUSINESS ADMINISTRATION 2019_2 EXAMINATION
COURSE CODE: BUS 428 CREDIT UNIT: 3 COURSE TITLE: BUSINESS POLICY AND STRATEGY II TIME ALLOWED: 2 HOURS 30 MINUTES
Instructions

: 1. Attempt question Number one (1) and any other three (3).
2. Question number 1 is Compulsory and carries 25 marks, while the other questions carry 15 marks each.
3. Present all your points in coherent and orderly manner.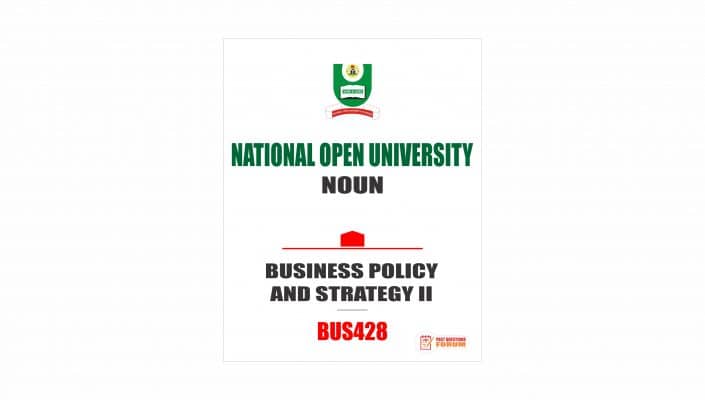 EXAMINATION QUESTIONS
1. (a) Briefly explain any Five (5) pyramid developed to demonstrate the relationship among various types of Business policies. 10 MARKS
(b) Briefly discusses any Five (5) guidelines for preparing Case Analyses 10 MARKS
(c) List any Five (5) Steps required for formulating a New policy. 5 MARKS
2. (a) Elaborate on any Five (5) options of Strategy Evaluation and Choice. 5 MARKS
(b) Explained the Five (5) guidelines for making effective Oral Presentation. 10 MARKS
3. (a) Briefly discuss the Classical approach and Whittington Three Schools of Strategic Management Thinking. 10 MARKS
(b) Explained any Two (2) Objectives of Case study Method. 5 MARKS
4. (a) According to Senge (1990), briefly identified Five (5) Disciplines of a Learning Organization.
5 MARKS
(b) Discuss the Four (4) main Stages of Business Strategies. 10 MARKS
5. (a) Explained any Two (2) Critical Question Analysis for developing Organizational Strategies.
5 MARKS
(b) Explain any of the Five (5) Characteristics of a Mission Statement. 10 MARKS
6. (a) Objectives play an important role in strategic management, briefly explained these Roles.
10 MARKS
. (b) State the important factors and influences of operating in the Regulatory Environment.
5 MARKS
DISCLAIMER
Pastquestionsforum is a global focused test-prep company. It is our duty to provide you with the most comprehensive study materials for your examination. Our study materials are focused on extensive analysis, input from previous test candidates, and, on occasion, official/privileged study materials made available by examination bodies and testing agencies.