Last Updated on January 25, 2021
Noun Past Questions For MBA801 – Production and Operations Management. Locate the download button below to download the Noun Past Questions for Production and Operations Management.
---
NATIONAL OPEN UNIVERSITY OF NIGERIA
Plot 91, Cadastral Zone, Nnamdi Azikiwe Express Way, Jabi – Abuja
FACULTY OF MANAGEMENT SCIENCES
DEPARTMENT OF ADMINISTRATION 
EXAMINATION QUESTIONS
2020_1 EXAMINATION
COURSE CODE: MBA801
COURSE TITLE: Production and Operations Management
CREDIT UNITS: 3
INSTRUCTION

: 1. Indicate your Matriculation Number clearly
2. Attempt question one (1) and any other three (3) questions – four questions in all
3. Question one (1) is compulsory and carries 25marks, while the other questions carry 
15marks each.
4. Present all your points in coherent and orderly Manner
TIME ALLOWED: 3Hrs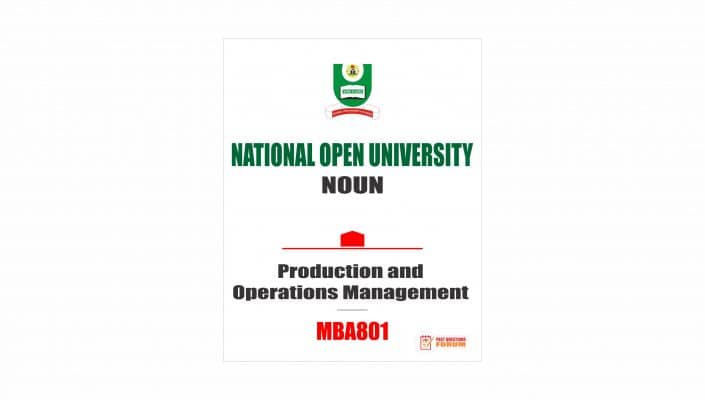 QUESTION ONE
(a)During the industrial revolution, the average worker was just a part of production with narrow
specialized skill. We still see factories today that uses mostly workers with specialized skills.
What is the feature of a job with a high degree of specialisation? 15 marks
(b)State the advantages a firm has in having a production set-up that requires and employs mostly
specialized workforce. 10 marks
QUESTION TWO
(a)Trace the link between a production or operations management strategy and the firm's overall
corporate strategy. 7 marks
(b) What characteristics of the consumers do firms normally use to identify the boundaries of the
market segments that it should serve? 8 marks
QUESTION THREE
(a) Choosing a process that best supports a firm's strategy is one of the first decisions a production
manager makes. Identify the five process types, and discuss them. 7.5 marks
(b) When should a process decision be made? 7.5 marks
QUESTION FOUR
(a)Discuss the role of technology in business management. 7 marks
(b)Discuss the components of information technology. 8 marks
QUESTION FIVE
The type of relations maintained with suppliers can affect the quality, delivery and price of a firm's
products and services. Discuss two major types of relationships a firm may develop with its suppliers.
 15 marks
QUESTIONS SIX
(a) What is vertical integration? 7 marks
DISCLAIMER
Pastquestionsforum is a global focused test-prep company. It is our duty to provide you with the most comprehensive study materials for your examination. Our study materials are focused on extensive analysis, input from previous test candidates, and, on occasion, official/privileged study materials made available by examination bodies and testing agencies.