Noun Past Questions For AEM510 – Psychology for Extension Personnel. Locate the download button below to download the Noun Past Questions for AEM510 – Psychology for Extension Personnel
---
NATIONAL OPEN UNIVERSITY OF NIGERIA
University Village, Nnamdi Azikiwe Expressway, Plot 91, Cadastral Zone, Jabi, Abuja
Faculty of Agricultural Sciences, Dept. of Agricultural Economics and Extension, 
PoP Examination Questions, October/November, 2019
Programme: Agricultural Extension and Management
Course Title: Psychology for Extension Personnel
Course Code: AEM 510
Credit Unit: 2
Total Score: 70Marks
Time Allowed: 2Hours
INSTRUCTION

: Answer four (4) questions. Question one (1) is Compulsory and carries 
25marks. All other questions carry 15marks each.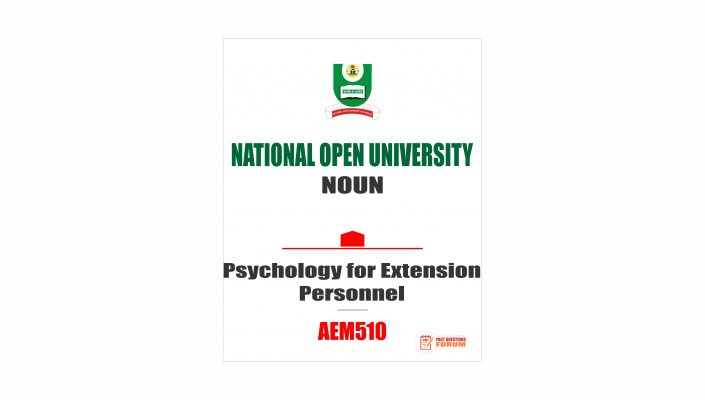 .1a. i. What do understand by term "teaching"? (2½marks)
 ii Who is a teacher? (2½ marks)
 b. Highlight ten (10) characteristics of a good teaching (10marks)
 c. Describe the various forms of learning. (10marks)
2 a. Distinguish between growth and development (6marks)
 b. Explain the three developmental trends as reported by psychologist (6marks)
 c. Mention the three phases of human development. (3marks)
3 a. Mention the different groups of intelligence quotient. 3 ½ mks
 b. Explain the feeble minded intelligence. (11 ½ mks)
4 a. State the four (4) basic laws of learning (4 marks)
 b. Explain the four (4) basic laws of learning (stated above in 4 a) (11marks)
5. a. List any five (5) forms of transfer of learning known to you (5 mks)
 b. Explain any five (5) forms of transfer of learning mentioned in 5a above. (10 marks)
6 a. Explain the theories of emotion. (10marks)
 b. Fear and Anxiety are emotions which play an important role in human motivation. Mention
 at least ten (10) causes of emotion among farmers. (5marks)