Last Updated on January 29, 2021
Noun Past Questions For AEM741 – Rural Sociology. Locate the download button below to download the Noun Past Questions for AEM741 – Rural Sociology.
---
NATIONAL OPEN UNIVERSITY OF NIGERIA
University Village, Nnamdi Azikiwe Expressway, Plot 91, Cadastral Zone, Jabi, Abuja
Faculty of Agricultural Sciences, Dept. of Agricultural Economics and Extension,
PoP Examination Questions, October/November, 2019
Title: Rural Sociology
Course Code: AEM 741
Credit Unit: 2
Time Allowed: 2 Hours
Instruction: Answer compulsory question 1(25 marks) and any other 3 questions (15 mks each)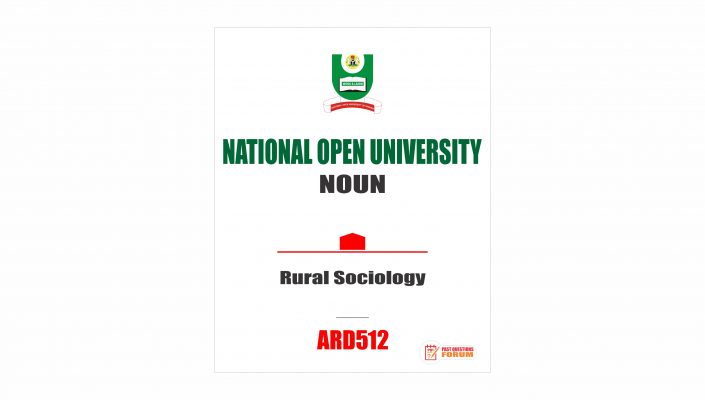 1. a (i ) Clearly define two (2) major concerns or things rural sociology is interested in. 4 Marks
(ii) State two (2) degree or level by which rurality is determined. 3 Marks
b. (i) Advance the four (4) major steps that justify or qualifies Sociology as a science. 4 Marks
(ii) Outline six (6) characteristics of a secondary group. 3 Marks
c. (i) Define rural population. 3 marks
(ii) Give the four (4) reasons why rural population differs from urban population in relation to age. 4 Marks
d (i) List four (4) types of leaders identified in the society. 2 marks
(ii) Identify four (4) rural economies in the society. 2 Marks = 25 Marks
2. (a) Analyze clearly five (5) areas that make social differential more complex in urban centers. 10 Marks
(b) Mention five (5) factors that enhance social mobility in the society. 5 Marks
3. a (i) Define socialization. 2marks
(ii) State clearly the three (3) roles of the agents of socialization in their socialization process. 6 marks
(iii) Who are agents of socialization? 2 ½
b. Enumerate three (3) advantages of the nuclear pattern of settlement. 4 ½ Marks
4. (a) What is leadership? 3 Marks
(b) Explain briefly the trait theory in perception of leadership. 3 Marks
(c) Using good examples, explain three (3) levels of power in the rural area. 9 Marks
5. (a) Advance and discuss four (4) qualities of a leader. 10 Marks
(b) Identify five (5) patterns of leadership in Nigeria. 5 Marks
6. (a) Different strategies have been adopted in developing rural areas. In your understanding, explain five (5) of such
strategies. 10 Marks
(b) The rate at which change takes place is influenced by some factors. Enumerate any five (5) of the factors.5 Mks
---

DISCLAIMER
Pastquestionsforum is a global focused test-prep company. It is our duty to provide you with the most comprehensive study materials for your examination. Our study materials are focused on extensive analysis, input from previous test candidates, and, on occasion, official/privileged study materials made available by examination bodies and testing agencies.