Last Updated on July 31, 2021
EKSU Post UTME Past Questions and answers can be now be download at pastquestionsforum.com. All candidates who applied for admission into the Ekiti State University are strictly advised to get their copies of the Ekiti State University post utme past questions and answers. This past question is a compiled PDF material which guides students on the areas they should concentrate as they are preparing for the Ekiti Sate University screening examination.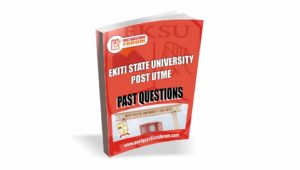 Available Subjects
English Languag
Mathematics
Physics
Chemistry
Biology
Agriculture
Geography
Economics
Commerce
Accounting
Government
History
Christian Religious Knowledge
I slamic Knowledge
Yoruba
French
Literature-I n-English
EKSU Sample Questions 2021
Question one The National Growth rate of population is the …
A. sum of the birth rate and the death rate
B. sum of the birth rate and the net migration rate
C. birth rate minus the death rate
D. birth rate divided by the net migration
E. death rate minus the net migration
Question two Marginal cost curve intersects average cost curve
A. from above at its lowest point
B. from below before the lowest point
C. from below at its lowest point
D. from below after the lowest point
E. at zero point
Question three I n an inflationary period which of the following statement is NOT true?
A. wages rise simultaneously with prices
B. the purchasing power of money diminishes
C. more money runs after a limited quantity of goods
D. money supply increases
E. aggregate real demand exceeds aggregate real supply
Question four Public expenditure creates expansionary effects in the economy when it is …………
A. in excess of government revenue
B. channelled into capital projects
C. diverted into imports
D. financed through oil revenue
E. completely financed through part of the year total collection of taxes
Question five Comparatives cost doctrine of international trade means specialization in production
A. according to absolute cost advantages
B. according to absolute cost disadvantages
C. according to comparative cost advantages
D. on the basis of the availability of labour
Question six The meaning of 'dumping' is selling goods in a foreign market
A. at a price below that received in the home market
B. at a price higher than that received in the home market
C. at a price equal to the cost price in the home market
D. in order to encourage the indigenous producers
E. at a price equal to the selling price in the home market
Question seven Disequilibrium in the balance of payments means ………
A. imports of the country exceeding its exports
B. overall deflect or surplus in the current account and capital account of the balance of payments
C. capital flowing out of the country exceeds the capital flowing into the country
D. deficit in the trade balance E. export earnings exceed cost of imports
How to Get The Ekiti State University Post UTME Past Questions
To get the EKSU Post UTME Past Questions and answers, hit the GET PAST QUESTION NOW button and you will be directed to our secured payment option page where you will be required to make payment to access the material.
DISCLAIMER
Pastquestionsforum is a global focused test-prep company. It is our duty to provide you with the most comprehensive study materials for your examination. Our study materials are focused on extensive analysis, input from previous test candidates, and, on occasion, official/privileged study materials made available by examination bodies and testing agencies.