Last Updated on January 13, 2023
Niger Delta University, NDU Post UTME Past Questions and Answers is available for the 2023/2024 academic session. All Niger Delta University, NDU Aspiring students can now download the latest version of the NDU Post UTME Past Questions and answers here. Note that we have the latest version of the NDU post utme exam past questions as well as their answers. Download Also Uniosun Post UTME Past Questions
---
Disclaimer! Note that the version of NDU PAST QUESTIONS  we have here is only for science. We don't have for arts subjects for now.
---
Niger Delta University, NDU
NDU was Founded in 2000, the Niger Delta University (NDU) is a university sponsored by the Bayelsa State Government located in Wilberforce Island (an island of great historical importance) about 30 kilometers from the capital of Yenagoa – Bayelsa state. Our logo represents the state's riverine and petroleum-rich milieux, while the Vision and Mission is summed up under the motto (Creativity, Innovation, Service).
The biodiversity of the vast landscape opens up opportunities for various research partnerships. After academics started in 2001/2002, the population in the Wilberforce Island Center of the College of Health Sciences and Faculty of Law has grown from 1,039 students to an impregnating community of more than 10,000 and 3518 academicians and non-academics with the main campus. In NDU we give our students the opportunity in a supportive atmosphere to improve their lives. A favorable learning climate is built by our academic and non-academic workers to improve skills of students.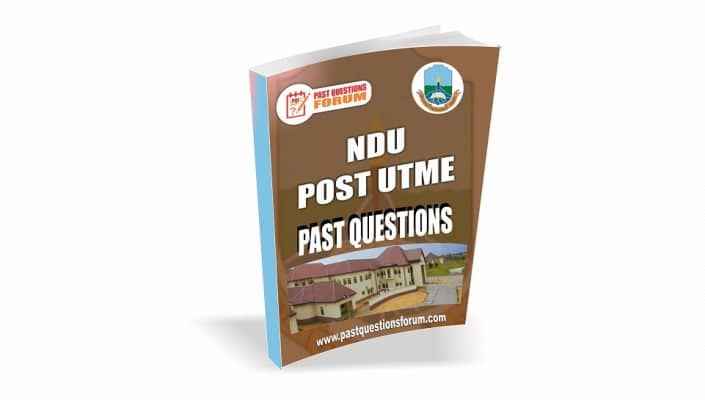 NDU Post UTME Past Questions and Answers PDF 2023
The latest version of the Niger Delta University, NDU post utme past questions and answers has been uploaded on this page and ready for download as said earlier. All students who wish to study in NDU are strictly advised to get NDU exam past questions now. The NDU exam past question is available for both science and arts students. We have also posted a free ndu post utme past questions and answers pdf so student can get an insight on what the question look like. We will talk about some benefits of the Niger Delta University post utme past questions. Continue reading…
Benefits of NDU Post UTME Past Questions and Answers
The Niger Delta University post utme past question equip you with knowledge and examination techniques to help you handle the upcoming exams.
If you carefully study the ndu papers you will understand some of the topics covered in your analysis. Indeed, most studies have a wide range of relevant topics and thus not all in one review paper that be covered. Reviewing these papers is the best way to decide which areas students are generally studied to concentrate their review on those areas.
Help you focus on common exam themes
Practice with actual exam-style questions
Develop/improve your time management skills
Get a feel for sitting exams
Refine your exam answering skills
Free NDU Post UTME Past Questions and Answers PDF 2023
Below is the Free version of the NDU Exam Questions. Students can now go through the free version of the past questions and ensure that they make payment to get the complete and updated version of this material. Note that you can only gain full access to the material after payment. Scroll below to see how to get past quesiton.
In question 1-15 choose the option nearest in meaning to the word(s) or phrase in italics
Question one He lost his voice momentarily.
A. in a moment
B. in a split moment
C. for a brief period of time
D. without delay
E. instantly
Question two You have been asked to change your laissez-faire attitude to work
A. stupid
B. carefree
C. careful
D. responsible
E. callous
Question three In some part of India, people are ostracized simply because of their ancestry.
A. abandoned
B. shut off from society
C. refused education
D. rendered unhappy
E. hated
Question four Which two structures are present in a palisade cell but not in a liver?
A. cell wall and cytoplasm
B. cell wall and chloroplast
C. cell membrane and cytoplasm
D. cell membrane and chloroplast
Question five Workers in deep mines usually suffer from dehydration because
A. water is lost due to evapouration
B. water is lost due to defecation
C. water is lost in the form of sweat
D. water is lost along with salts in the form of sweat
Question six Glucose is reabsorbed in the kidney mainly by
A. Bowman's capsule
B. Loop of Henle
C. Proximal Convoluted Tubule
D. Distal Convoluted Tubule
Question seven The most common substrate of respiration is
A. fats
B. amino acids
C. glucose
D. sucrose
Question eight The rate of heart beat in an adult human being is
A. 71 beats per minute
B. 72 beats per minute
C. 73 beats per minute
D. 74 beats per minute
Question nine One of the following is not true.
A. saprophytic nutrition involves feeding on soluble organic material from inorganic substances
B. symbiosis is a nutritutional relationship in which both organisms involved derive benefit
C. a parasite causes injuries to its host in the course of getting its food
D. holozoic mode of nutrition can be seen in animals, carnivorous plants and some protists
Question ten is responsible for the direction of growth and development of the organism.
A. the nucleus
B. the DNA
C. the neuron
D. the RNA
Question eleven The chromosome number in man is
A. 46
B. 23
C. 92
D.58
Question twelve Effectors are
A. muscles which work in response to the stimulus received from the motor nerves
B. glands which work in response to the stimulus received from the motor nerves
C. muscles or glands which work in response to the stimulus received from the motor nerves
D. efferent neutrons
Question thirteen The following are formed in the bone marrow except
A. platelets
B. basophils
C. granulocytes
D. lymphocytes
Question fourteen Find the principal which amounts to
A. N5,000
B. N4900
C. N4800
D. N4700
Question fifteen A car dealer bought a second-hand car for N250,000.00 and spent N70,000.00 refurbishing it. He then sold the car for N400,000.00. What is the percentage gain?
A. 20%
B. 25%
C. 32%
D. 60%
How to Get the NDU Post UTME Exam Past Questions and Answers
To get the latest version of the Niger Delta University, NDU post utme past questions and answers, simply hit the GET PAST QUESTION NOW button and you will be directed to our secured payment option page. On arriving the page, you will be required to fill in your personal details. Fill in your personal details, select a payment option (ATM OR BANK TRANSFER) and click on PLACE ORDER to make payment. After successful payment, the material will be sent to your email address in a PDF format.
Do well to share to friends and family members. 
DISCLAIMER
Pastquestionsforum is a global focused test-prep company. It is our duty to provide you with the most comprehensive study materials for your examination. Our study materials are focused on extensive analysis, input from previous test candidates, and, on occasion, official/privileged study materials made available by examination bodies and testing agencies.