Last Updated on October 25, 2022
Download University of Nigeria UNN Post UTME Past Questions and Answers for 2022/2023 academic session. The UNN Post UTME Past Questions and Answers can now be downloaded at Past Questions Forum. Are you student who wish to study at the University of Nigeria, UNN? Do you wish to gain admission into the University of Nigeria? If yes, it is strictly advised that you get the University of Nigeria post utme past questions and answers. You are advised to follow the steps below to get you material.
Download Also: UNILAG Post UTME Past Questions and Answers
University of Nigeria Post UTME Past Questions and Answers
The University of Nigeria Post UTME Past Questions and Answers has been provided on this page for download in PDF format. Student should note that in order to gain admission into the University of Nigeria, UNN, there are some requirements that must be met. The UNN usually organizes a screening examination for her prospective students, and it is mandatory that student must pass these examinations before they can be accepted as students into the institution. In this regard, we have provided the updated version of the UNN past questions and answers compiled form different years. All prospective students are strictly advised to get their copies of these materials while preparing for their screening examinations.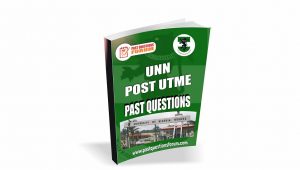 UNN Post UTME Past Questions for All Faculties 2022
The University of Nigeria post utme past questions is available for all faculties. Students can now purchase this material irrespective of their faculties.
UNN Post-UTME Past Questions For Faculty Of Arts, Law, Social Sciences and Business Administration
UNN Post-UTME Past Questions For Faculty Of Environmental Studies
UNN Post-UTME Past Questions For Faculties Of Medicine, Pharmacy, Basic Medical Sciences, Health Science & Tech, Veterinary Medicine, and Biological Sciences
UNN Post UTME Past Questions and Answers
The UNN Post UTME Past Questions and answers is a compilation of past questions conducted by the University of Nigeria during her past screening examinations. We have taken time to compile these past question from different years with solved answers as well as the solutions. This material has been packaged in a PDF format to make it easily accessible. Student can now read through this material with their Phones or Computers. A step by step guide to get this material has been outlined below in detail. Simply follow the steps to get your copy. We have also provided a free sample copy of this material so students can see how the material looks like.
Free UNN Post UTME Past Questions
A free sample of the UNN Post UTME past questions and answers has been provided below. Note that the questions provided below is just a sample question and not the complete version of the material. You will be given full access to the material after payment.
Question one The primary openings for gaseous exchange in a plant stem at night are
A. Opening in the cuticles
B. Stomata
C. Lenticels
D. Branches
Question two In Amoeba, the ectoplasm is bounded by a thin membrane known as the
A; Plasmasol
B. Plasmagel
C. Plasalemma
D. Protoplasm
Question three Wattle is the name of a structure found in
A. Lizard
B. Chameleon
C. Cock
D. Dogfish
Question four The inner ear has two types of coiled structures called cochlea which
A. Receive sound impulses
B. Has sensory tells which carry impulses to the spinal cord
C. Connects to the Eustachian tube
D. Possess cells sensitive to balance
Question five The capillaries act as filters between
A. The veins
B. The arteries
C. The venules
D The arteries and the veins
Question six The palisade parenchyma is found in the
A. Stem
B. Leaf
C. Flower
D. Root
Question seven Viruses are the smallest known organisms and are divided into two parts the outer part and an inner part. The outer parts protein and the inner part is
A. Nucleus
B. Vacuole
C. Particle
D. DNA and RNA
Question eight One of these is not a feature of the caudal vertebrae in a mammal
A. They possess neural canal
B. Their transverse processes are poorly developed
C. Their neural spines are gradually lost
D. There are not many articular surfaces.
Question nine Centipedes are
A. Equally dangerous as millipedes
B. Less dangerous than millipedes
C. More dangerous than all
D. Not dangerous at all
Question ten The thallus of a lichen consists of
A. A virus and a fungus
B. Alga cells and fungal hyphae
C. Bacteria and fungal cells
D. Soredium and basisospor
Question eleven The tomato fruits is a very good example of
A. An aggregate fruit
B. A drupe
C. A berry
D.A multiple fruit
Question twelve Odontophore is a skeletal structure found in the phylum
A. Pisces
B. Echinodermata
C. Mollusca
D. Amphibia
Question thirteen Cremation occurs in the Red Blood cell when
A. It is placed in isotonic
B. It is placed in hypertonic solution
C Osmosis is allowed to occur
D. Transpiration occurs
Question fourteen The outer membrane covering the brain known as –
A. Brain ventricle
B. Mchnoid
C. Pia meter
D. Dura meter
Question fifteen The mitochondrion consists of
A. Chemical that break up complex compounds in the cells into simpler compounds
B. Rich store of ribonucleic acid
C, Digestive enzymes and hormones
D. Protein phosphorus and
How to Get the UNN Post UTME Past Questions and Answers
To get the complete and updated version of the University of Nigeria Post UTME Past Questions and Answers, simply click on the GET PAST QUESTION NOW button and you will be directed to a page where you can select your payment option. Note that payments can be made either by bank transfer or with your ATM debit card online.
After successful payment, the material will be sent to your email address in a PDF format. You can now click to download the material. Ensure to leave your reviews and rating telling us how you enjoyed transaction with us.
UNN Frequently Asked Questions
unn post utme past questions pdf free download
unn post utme syllabus 2022
unn past questions and answers pdf
unn post utme syllables
unn aptitude test past question
how to score high in unn post utme
unn post utme literature questions
highest score in unn post utme 2022
DISCLAIMER
Pastquestionsforum is a global focused test-prep company. It is our duty to provide you with the most comprehensive study materials for your examination. Our study materials are focused on extensive analysis, input from previous test candidates, and, on occasion, official/privileged study materials made available by examination bodies and testing agencies.