Last Updated on July 17, 2021
Federal Air Port Authority of Nigeria, FAAN Recruitment Past Questions and answers can be downloaded with just a few steps. Did you apply for FAAN Recruitment? Do you need the latest version of the Federal Air Port Authority of Nigeria, FAAN Recruitment Past Questions and answers? If yes, you search ends here. We has provided the updated version of the Federal Air Port Authority of Nigeria, FAAN Recruitment Past Questions as well as the answers. All you need to do is, follow the simple procedures on this page to perform a stress free download. Also Download INEC Recruitment Past Questions And Answers
Federal Air Port Authority of Nigeria, FAAN
Nigeria's Federal Airport Authority is a service organization mandated by law to control all Nigerian commercial airports and to provide service to both passenger and freight airlines. FAAN has her headquarters located in Lagos and was founded in 1935. Key members include: Otunba Niyi Adebayo (Chairman); Capt Rabiu Hamisu Yadudu (MD/CEO)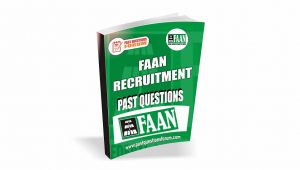 FAAN Recruitment Past Questions And Answers 2021
The Federal Air Port Authority of Nigeria, FAAN'S recruitment past questions and answers has been uploaded on this page. This past questions comprises of English language, Mathematics, Current Affairs and General Knowledge subjects. Below is a sample of the questions. Follow the steps below to get the complete material.
Question one What is the full meaning of UNESCO?
A. United Nigeria Educational, Scientific and Cultural Organization
B. United Nations Educational, Scientific and Cultural Organization
C. United Nations Educational, Scientific and Commonwealth Organization
D. United Nations Empowerment, Scientific and Cultural Organization
Question two The first Nigerian traditional ruler to be dethroned by colonist is
A. King Jaja of Opobo
B. Oba Esegie of Benin
C. Obi of Onistha
D. Sultan of Sokoto
Question three The use of Naira and kobo as Nigerian currency took effect from which year?
A. 1963
B. 1980
C. 1973
D. 1960
Question four THRUST : SPEAR
A. mangle : iron
B. scabbard : sword
C. bow : arrow
D. fence : epee
Question five ____is the first Pan Africn communication satelite launched on the 21st of December, 2007.
A. Africasat 1
B. NigComSat 1
C. Rascom-OAF1
D.SUNSAT
Question six The first aeroplane in Nigeria landed in
A. Calabar
B. Lagos
C. Kano
D. Abuja
Question seven When was the first year NECO examination took place…
A. 1998
B. 1980
C. 2000
D. 1975
Question eight A is twice as good a workman as B and together theyfinish a piece of work in 18 days .In how many days will A alone finish thework?
A. 27
B. 26
C. 25
D. 24
Question nine The current secretary general of the United Nations Organization is
A. Mr. Banki-Moon
B. Kofi Anan
C. Emeka Anyaoku
D. Hillary Clinton
Question ten In what year was the FCT moved from Calabar to Lokoja?
A. 1926
B. 1906
C. 1914
D. 1960
How to Get FAAN Past Questions and Answers
To get the updated version of the FAAN past questions and answers, simply click on GET PAST QUESTION NOW button and proceed to payment option page to make payment. You can make payment using your ATM debit card to pay online and you can also make payment via direct bank transfer.
After making payment for your material, a download link will be sent to the email address you provided. Simply click on the download link to start download. Note that this material is usually sent in PDF format.
DISCLAIMER
Pastquestionsforum is a global focused test-prep company. It is our duty to provide you with the most comprehensive study materials for your examination. Our study materials are focused on extensive analysis, input from previous test candidates, and, on occasion, official/privileged study materials made available by examination bodies and testing agencies.