Last Updated on May 9, 2022
Federal Fire Service Past Questions and answers… How to download the FFS recruitment past questions and answers. This page brings you full guidelines on how to download the Federal Fire Service recruitment past questions and answer in PDF format.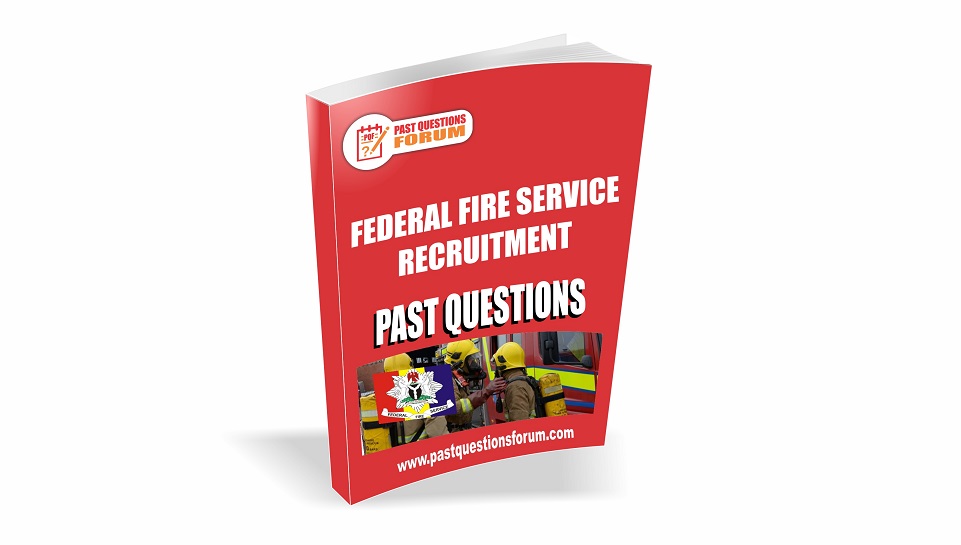 Sample Questions
Question one Freely burning fires fuelled by wood can be extinguished by
(a) application of water
(b) application of foam
(c) application of C02 extinguisher
(d) c & d
---
Question two Which of these is not a road classification in Nigeria?
A. Trunk A
B. Trunk B
C. Trunk C
D. Trunk D
---
Question three Safety helmets are worn to protect against
(a) extremes of temperatures
(b) falling objects
(c) impacts with fixed objects
(d) a,b & c
---
Question four The color Green in safety can be used in
(a) escape routes
(b) emergency showers
(c) low passages
(d) emergency stops
---
How to Get you Past Question Paper
The Federal Fire Service Recruitment past questions and answers is available for download in PDF format you are advised to follow instructions and proceed to make payment. Note that the past questions will be sent to you via your email 
---
Question five The acronym for the equipment worn by an individual to prevent risk to health and safety is
(a) PHE
(b) PPE
(c) PPMC
(d) PSE
---
Question six The chemistry of fire include
(a) heat
(b) oxygen
(c) combustible materials
(d) a&b
---
Question seven . …….is not a class of fire
(a) B
(b) F
(c) E
(d) A
---
Question eight  Water is most effective and most commonly used for which of the following type of fire?
A. Class A-ordinary combustibles
B. Class B-flammable and combustible liquids
C. Class C-electrical
D. Class D-combustible metals
---
Question nine The first principle of good storage practice for chemicals is:
A. limiting quantity
B. segregation
C. containment
D. concentration
---
Questions ten The color Blue in safety means
(a) Prohibited action
(b) Mandatory action
(c) Safe action
(d) Warning notice
---
If you have any contribution to make regarding the Federal Fire Service Past Questions feel free to leave a review below.
DISCLAIMER
Pastquestionsforum is a global focused test-prep company. It is our duty to provide you with the most comprehensive study materials for your examination. Our study materials are focused on extensive analysis, input from previous test candidates, and, on occasion, official/privileged study materials made available by examination bodies and testing agencies.