Last Updated on December 4, 2022
Download FIRS Recruitment past questions and answers here. The Federal Inland Revenue Services (FIRS) Recruitment Test Past Questions And Answers has been uploaded on this page all you need to do is just follow the instructions on this page to get your past questions. Note that the FIRS past questions and answers is up to the latest version and it has been compiled in PDF format. Scroll below to see how to download the Federal Inland Revenue Services (FIRS) Recruitment Test Past Questions And Answers. Download EFCC Recruitment Past Questions
About Federal Inland Revenue Service, FIRS
The Federal Inland Revenue Service, FIRS is a Federal Government of Nigeria parastatal…. The Federal Inland Revenue service, FIRS is charged with powers of assessment, collection of, and accounting for revenues accruable to the government of the federation; and for related matters.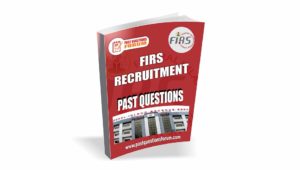 FIRS Recruitment Past Questions And Answers 2021
The Federal Inland Revenue Service, FIRS recruitment past questions and answers has been compiled from different years since FIRS began interview examinations. This material is a necessity for individuals who wish be employed into the Federal Inland Revenue Service. The necessary guide needed to get this material has been posted below. Follow the instructions on this page to get your material. Note that this material will be sent in PDF format to you via your email address. A free version of the Federal Inland Revenue Service recruitment past questions has also been posted below.
Free FIRS Past Questions 2021
Below is a free version of the Federal Inland Revenue Service, FIRS past questions. Applicants can now see how the Firs past questions look like. Note that you will have to make payment before gaining access to the complete an updated version of this material.
Question one The current executive chairman of the FIRS is
A. James K. Naiyeju
B. David Olorunleke
C. Vincent O. Ogunba
D. Muhammad Mamman Nami
Question two The Mambila plateau is located in which state?
A. Plateau
B. Taraba
C. Niger
D. Bauchi
Question three Interest credited to a bank savings account is taxed regardless of whether or not it is withdrawn.
a. True
b. False
Question four The Nigerian Inland Revenue Department was carved out of the Inland Revenue Department of Anglophone West Africa and established as an autonomous body under the supervision of the Commissioner of Income Tax in what year?
A. 1960
B. 1963
C. 1943
D. 1999
Question five Aremu pays N16,000 in tax deductible property taxes. Aremu's marginal tax rate is 25%, effective tax rate is 20% and average rate is 22%. Assuming that Aremu uses itemized deduction for other reasons anyways, her tax savings from paying the property tax is
A) N3,200.
B) N3,520.
C) N4,000.
D) N8,000.
Question six What does the green colour in Nigerian flag represent?
A. Forests and abundant natural wealth of Nigeria
B. Peace
C. Fertility
D. Temperate climate
Question seven Sola had the following income and losses:
Salary N75,000
Prize from quiz show 25,000
Unemployment compensation 8,000
Embezzled funds 30,000
Partnership Income 35,000
What is Sola's adjusted gross income (not taxable income)?
A) N135,000
B) N143,000
C) N165,000
D) N173,000
Question eight One of the following is not a major business internal revenue tax in the Tax Code.
a. Value-Added Tax
b. Excise Tax
c. Income Tax
d. Percentage Tax
Question nine Which of the following made the earliest contact with the Nigerian society ?
(A) british
(B) portuguese
(C) french
(D) german
Question ten Sola had the following income and losses:
Salary N75,000
Prize from quiz show 25,000
Unemployment compensation 8,000
Embezzled funds 30,000
Question eleven One of these was in existence before the outbreak of the second world war
a. The OAU
b. The League of Nations
c. The UNO
d. The Commonwealth of Nations
How to Download FIRS Past Questions And Answers
To download the latest version of Federal Inland Revenue Services (FIRS) Recruitment Test Past Questions And Answers, simply hit the GET PAST QUESTION NOW button and proceed to payment option page to make payment.
Payment Options
Payments can be made using your ATM debit card online and payment can also be made by mobile transfer using your mobile phone. Your can as well copy account details on this site to any commercial bank for payment.
After making payment for the FIRS Recruitment Past Questions, a download link will be sent to your email address. You just need to click on the download link to download your past question. Ensure that you rate our products and services and leave a review in the review tab.
DISCLAIMER
Pastquestionsforum is a global focused test-prep company. It is our duty to provide you with the most comprehensive study materials for your examination. Our study materials are focused on extensive analysis, input from previous test candidates, and, on occasion, official/privileged study materials made available by examination bodies and testing agencies.