Last Updated on July 18, 2021
All students who have applied for FSB Undergraduate Scholarship are advised to get the latest version of FSB Undergraduate Scholarship Past Questions and answers as they prepare for the FSB undergraduate scholarship examination. This past questions has all the necessary information you will need while preparing for your exams. The Federal Scholarship Board past questions is compiled from the past fsb scholarship exam questions and we deliver up to date past questions on federal scholarship board.
Download FSB Postgraduate Scholarship Past Questions
Click on the button below to download the Federal Scholarship Board Postgraduate past questions and answers.
Download Also: FSB Postgraduate Scholarship Past Questions
Benefits of Federal Scholarship Board Undergraduate Past Questions
The federal scholarship board undergraduate past questions and answers has a lot of benefits to those who have applied for FSB undergraduate scholarship. Candidates who get this past question and study the questions and answers can boldly stand to say that they have fully prepared for the examination. Therefore the Federal Scholarship Board past question is highly necessary.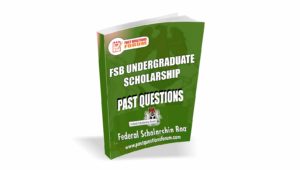 FSB Undergraduate Scholarship Past Questions 2021
Question one The ages of Grandma, Aunt Jane and Sara add up to 119 years. Grandma is twice as old as Aunt Jane, and Aunt Jane is twice as old as Sara. Grandma is years old, Aunt Jane years old and Sara is years old.
A. Grandma 68, Aunt Jane 34, Sara 27
B. Grandma 68, Aunt Jane 34, Sara 27
C. Grandma 48, Aunt Jane 34, Sara 47
D. Grandma 68, Aunt Jane 64, Sara 17
Question two If 6 people do a certain job in 8 hours, how long will it take 16 people, working at
the same speed?
A. 3hrs
B. 4hrs
C. 5hrs
D. 6hrs
Question three What parts of speech are 'Nature' and 'stake'? Circle the correct letter.
A adverbs
B nouns
C prepositions
D adjectives
E verbs
Question four toys were bought for £2.15 each and sold for £3.50. What was the total profit?
A. 13.85
B. 14.85
C. 15.85
D. 16.85
Question five Which word in this sentence is an adjective? Circle the correct letter.
1. "Don't be cross, uncle!" said the nephew.
A Don't
B be
C cross
D uncle
E said F the
G nephew
How to Download FSB Undergraduate Past Questions And Answers
To get this past question, simply hit the GET PAST QUESTION NOW button and proceed to payment option page. Simply fill in your contact details, select a payment option and click pay now to make payment.
After successful download, kindly rate our product and services and leave a review in the review tab. Kindly note that we use our customers reviews to improve our product and services.
DISCLAIMER
Pastquestionsforum is a global focused test-prep company. It is our duty to provide you with the most comprehensive study materials for your examination. Our study materials are focused on extensive analysis, input from previous test candidates, and, on occasion, official/privileged study materials made available by examination bodies and testing agencies.