Last Updated on May 14, 2022
Download the Gani Fawehinmi Scholarship Past Questions and Answers now and get started for the Gani Fawehinmi Scholarship examinations. This Gani Fawehinmi Scholarship Past Questions and Answers will expose you to the question that Gani Fawehinmi has set in the past. You will also know the nature of Gani Fawehinmi Scholarship examination. We have fully compiled the Gani Fawehinmi Undergraduate Scholarship Past Questions and updated it to the latest version. Follow instructions below to get your material. Download also: NLNG Scholarship Past Questions
About Gani Fawehinmi
Fawehinmi, commonly known as Gani, was born in Ondo State on 22 April 1938, the son of Saheed and Munirat Fawehinmi of Ondo. His father, Chief Saheed Tugbobo Fawehinmi, Ondo's Seriki Musulumi, was a successful Yoruba timber merchant, philanthropist, civic activist and Muslim chieftain. Ajao, who brought Islam to Ondo City, southwestern Nigeria, was claimed to be a follower. At the age of 89 years, Chief Saheed Tugbobo Fawehinmi died on 5 February 1963.
The grandfather of Gani was the late Ondo Chief Lisa Alujanu Fawehinmi, who in the nineteenth century, engaged in numerous successful battles for and on behalf of the Ondo people. Therefore the word 'Alujanun' means spirit. At the age of 92, he died.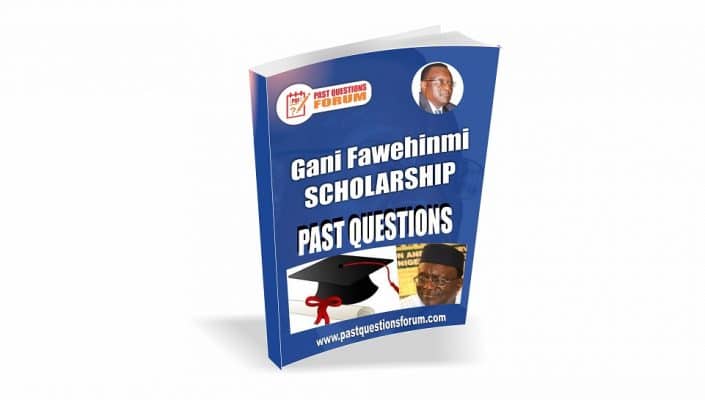 About Gani Fawehinmi Undergraduate Scholarship
In 1971, the late Chief Abdul-Ganiya Oyesola Fawehinmi founded the Gani Fawehinmi Scholarship Scheme for undergraduate students. The Gani Fawehinmi Scholarship aims to help needy and diligent Nigerian students complete their tertiary education. This scholarship targets students in Nigeria from tertiary institutions who demonstrate strong academic results. A total of 2 million Naira (N2,000,000) will be distributed among the beneficiaries of the scholarship.
Gani Fawehinmi Undergrate Scholarship Past Questions
It is anticipated that any candidate applying for this scholarship will have a score above the minimum requirement. You need to get acquainted with past questions about the Gani Fawehinmi scholarship in order to accomplish this.
The scholarship assessment is not just about how great you are but how well you have learned the structure of the test and the question pattern.
We have complied the latest and up to date version of the Gani Fawehinmi Undergraduate scholarshp study pack for you. Note that this material is not free, the price for the material can be found before this post. The material will be sent to you in a pdf format immediately after successful payment.
How to Get the Gani Fawehinmi Undergraduate Scholarshp Past Questions
To get the latest and updated 2022-2023 Gani Fawehinmi Undergraduate Scholarshp study pack, kindly hit the GET PAST QUESTION NOW button and you will be directed to our secured payment page where you will have to fill in your details and make payment.
After successful payment, the material will be sent to your email address in a PDF format.
DISCLAIMER
Pastquestionsforum is a global focused test-prep company. It is our duty to provide you with the most comprehensive study materials for your examination. Our study materials are focused on extensive analysis, input from previous test candidates, and, on occasion, official/privileged study materials made available by examination bodies and testing agencies.