Last Updated on May 14, 2022
Download the NWAG Scholarship Past Questions and Answers… Did you apply for the Nigerian Women's Association of Georgia (NWAG) scholarship? Do you need the Nigerian Women's Association of Georgia (NWAG) scholarship past questions and answers for proper preparation against the Nigerian Women's Association of Georgia (NWAG) scholarship exams? If yes, the solution to your search is here. we have fully compiled the NWAG scholarship past questions with detailed solutions and have updated it to the latest version. Kindly follow the steps on this page to get your material. Download also: NDDC Scholarship Past Questions and answers
About NWAG 
Mrs. Dayo Keshi welcomed a handful of dynamic Nigerian women to her residence in 2000 to explore how our efforts to affect the lives of Nigerians at home and abroad could be integrated. Many of the women gathered were experienced people who belonged to different organisations of the city. In order to achieve more in our societies, the birth of NWAG was to unite our efforts and harness our talents as Nigerian women. Thus, our slogan: "TOGETHER WE ACCESS"
The Nigerian Women's Association of Georgia (NWAG) is a community of accomplished people from different skilled vocations who have decided to use their wealth, skills and energies to improve the lives and well-being of the less fortunate in their communities, both in Nigeria and in Georgia, as well as to promote Nigeria's cultural heritage.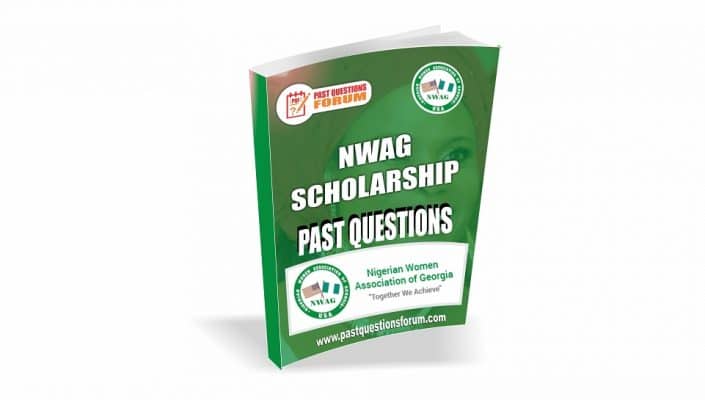 About NWAG Undergraduate Scholarship Award
In 2022, NWAG plans to grant 37 one-time scholarships to Nigerian female undergraduate students at Nigerian universities, one for each state of origin as well as one for the Federal Capital Territory (FCT), each amounting to one hundred thousand Naira (N100,000).
NWAG Scholarship Past Questions and Answers 2022
The latest version of the NWAG Scholarship past questions and answers has been uploaded on this page. Interested individuals can now make payment to get the material. Note that the material is not free, the price for the material has been attached above. Follow the steps below to get the material.
How to Get the NWAG Scholarship Exams Past Questions 
To get the latest version of the Nigerian Women's Association of Georgia Scholarship test past questions, hit the GET PAST QUESTION NOW button and you will be directed to our secured payment option page. On arriving, kindly fill in your personal details and click on place order to make payment. Note, your personal details is what we use to process your order.
After successful payment, the material will be sent to your email address in a PDF format.
DISCLAIMER
Pastquestionsforum is a global focused test-prep company. It is our duty to provide you with the most comprehensive study materials for your examination. Our study materials are focused on extensive analysis, input from previous test candidates, and, on occasion, official/privileged study materials made available by examination bodies and testing agencies.