Last Updated on September 17, 2022
The most Comprehensive and updated version of the Nursing and Midwifery Council of Nigeria, NMCN Past Questions and Answers is now available here. It is our duty to keep providing you with latest study materials to help you score well in your examination. The Nursing and Midwifery Council of Nigeria (NMCN) Past Questions and answers has been fully compiled with detailed solution and has been updated to the latest version. We believe with this study pack, you will get to know how the Nursing and Midwifery Council of Nigeria do set their questions. Note that this is the official Professional Examination Questions For General Nurses. Download also LUTH School of Nursing Past Questions
About Nursing and Midwifery Council of Nigeria NMCN
Nursing and Midwifery Council of Nigeria (NMCN) is a category B parastatal of the Federal Health Ministry established by Decree No. 89, 1979, now known as the Act on Nursing and Midwifery (Registration etc). Limit. Cap. N143, The Rules of the Nigerian Federation, 2004. A corporate body with eternal succession and a common seal is the Assembly.
It is the only legal, administrative, corporate and statutory body entrusted on behalf of the Federal Government of Nigeria with the execution of specific functions to ensure the delivery to the public of safe and efficient nursing and midwifery care through quality education and best practices. The Council is required by law to govern Nigeria's Nursing and Midwifery Education and Practice standards and to review these standards from time to time in order to meet society's changing health needs.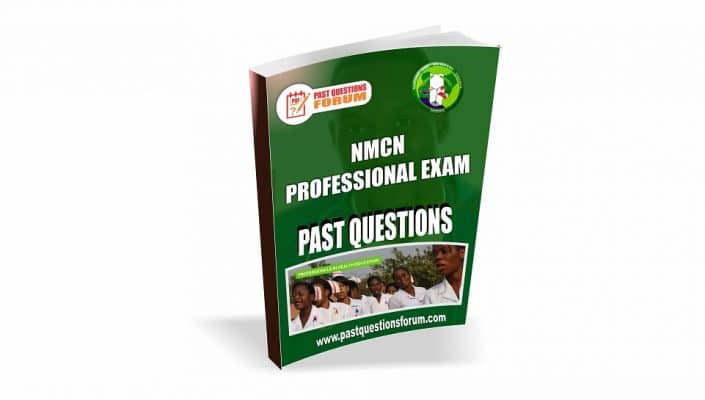 Nursing and Midwifery Council of Nigeria Past Questions Past Questions and Answers PDF 2022
The Nursing and Midwifery Council of Nigeria (NMCN) Past Questions and answers is available here as stated earlier. This material is available only in a PDF format. The material is downloadable and can be accessed with your mobile phone or laptop. The price for this study pack is boldly written at the top of this page. This material can only be accessible after successful payment. We have also posted a free version of the nursing and midwifery past questions still on this page.
Benefits of Getting the Nursing Council Exam Past Questions
It can be a little nerve-wracking preparing for an examination. When an individual writes an exam such as the nursing council exam, It takes good grades to be accepted among those that have passed the examination. Let's dig into the advantages of this study pack on that note, and how they can transform your grades. Read some tips on how to prepare for nursing council exam
1. Gives you a Feel of the Exam
For someone who is most likely to write an external analysis for the first time, the Nursing and Midwifery Council of Nigeria past questions give you a sense of the examination's format, style and question structure. In other words, when you try your hands on the questions, it provides you with an idea of what to expect.
2. The Past Questions Have a High Chance of Being Repeated
We all know that past questions have a very high chance of being repeated. In fact, in your examination, there will always be a previous issue of some kind. Why do most students always struggle if that is the case? If you are serious about passing the nursing council exam, it is important to resolve past questions from previous question.
3. You can Explore the Answers to the Questions
Questions that would have confused you in the exam hall will not get you sweating because you have the chance to find answers while solving past questions. It is important to take time to check the answers to the questions while as you solve them.
4. Solving Past Questions can Give you Confidence
You begin to have confidence in yourself and the ability to ace the exam when you solve the nursing council exam past questions. It is possible that the review fever will turn into a sense of excitement and anticipation.
Nature of the NMCN Questions
It is important to note that the Nursing and Midwifery Council of Nigeria (NMCN) questions is usually handwritten. You will get to understand more about this after purchasing the past question. See some free NMCN questions below.
Free NMCN Past Questions and Answers (Sample Questions) 2022
Below are some sample questions. We have provided 10 sample question for the Nursing and Midwifery Council of Nigeria. Ensure that you make payment to gain full access to the complete and updated material.
INSTRUCTIONS: The following are Objective Test Items. CIRCLE the appropriate OPTION with PIRO. Each question counts for ONE (1) mark. Enter your NUMBER on this booklet. This Booklet MUST be attached to the Essay Answer Script.
Question one  Compounds containing carbon and hydrogen are classified as
a. Inorganic
b. Molecules
c. Organic
d. Electrons
ANS is C
Question two Squamous epithelium lines the following structures EXCEPT
a. Heart
b. Lymph vessels
c. Blood vessels
d. Liver
ANS is D
Question three  Mast cells product granules which contain
a. Heparin
b. Glucose
c. Vitamins
d. Collagens
ANS is A
Question four The most abundant clotting factor is
a. Serum
b. Fibrinogen
c. Albumin
d. Globulin
ANS is A
Question five An average red blood cell carries about…………………..haemoglobin molecules
a. 280 million
b. 180 million
c. 100 million
d. 300 million
ANS is C
Question six The following are blood clotting factors EXCEPT
a. Hageman factor
b. Prothrombin
c. Christmas factor
d. Haemophilic factor
ANS is A
Question seven Which of the following structures of the eye has a deep chocolate colour?
a. The cornea
b. The lens
c. The choroid
d. The ciliary body
ANS is C
Question eight The bifurcation of the trachea into the right and left bronchi occurs at the level of the
a. 3rd thoracic vertebra
b. 5th cervical vertebra
c. 5th thoracic vertebra
d. 6th cervical vertebra
AND is C
Question nine The volume of air remaining in the lungs after forced expiration is called
a. Tidal volume
b. Inspiration reserve volume
c. Inspiratory capacity
d. Residual volume
ANS is B
Question ten The amount of air that moves in and our of the lungs during one normal respiratory cycle is known as
a. Residual volume
b. Inspiration reserve volume
c. Vital capacity
d. Tidal volume
ANS is A
How to Get the NMCN Past Questions and Answers 2022
The get this material, kindly hit the GET PAST QUESTION NOW button and you will be directed to our secured payment option page. On arriving, Fill in your personal details, select you preferred payment option (Bank Transfer or Pay with Card) and Hit the PLACE ORDER button. After successful payment, you will be granted instant access to the material.
Note that the material will be sent to your email address after successful payment.
DISCLAIMER
Pastquestionsforum is a global focused test-prep company. It is our duty to provide you with the most comprehensive study materials for your examination. Our study materials are focused on extensive analysis, input from previous test candidates, and, on occasion, official/privileged study materials made available by examination bodies and testing agencies.