FCT School Of Nursing Entrance Exams Past Questions… Download the latest version of FCT School of Nursing Past Questions and answers. All candidates who will be going in for FCT School of Nursing Entrance examination are highly advised to get the FCT school of nursing entrance examination past questions and answers. This page brings you the comprehensive School of Nursing, Abuja Entrance examination past questions and answers. Students should endeavor they get this past questions before the FCT school of nursing exam date. Scroll down to see how to download. Download Akwa Ibom State School of Nursing Past Questions and Answers
FCT School of Nursing Gwagwalada
The FCT School of Nursing, Abuja, was founded on 1981. The FCT School of Nursing was established at a temporary site in Suleja, Niger state. The FCT School of Nursing's clinical base for the students and nurses was the General Hospital Suleja. This was made under a provisional approval by the Nursing and Midwifery Council of Nigeria. Scroll down to downloa past questions of the abuja nursing.
The FCT School of Nursing has the total of six departments
Nursing Department
Anatomy and Physiology Department
Medical Surgical Nursing Department
Primary Health Care Department
Family Health Department, and
General Studies Department.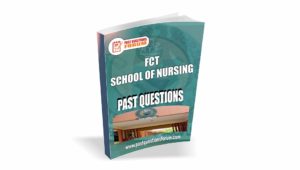 FCT School Of Nursing Entrance Examination Past Questions And Answers
The School Of Nursing, Abuja Entrance Exams Past Questions and answers has been uploaded on this page. Candidates who will be going in for the School Of Nursing, Abuja Entrance Examination can now get their past questions on this page as they prepare for the entrance examination.
Benefits of FCT School Of Nursing Entrance Exams Past Questions
The School Of Nursing, Abuja Entrance Exams Past Questions and answers has a great advantage on students preparing for this entrance examination. This past questions will introduce to students their areas of study. This will help students score high during the entrance examination. See how to get past questions of the Abuja Nursing below.
How to Get School Of Nursing, Abuja Past Questions
To get this past question, simply click on GET PAST QUESTION NOW button and proceed to payment option page. Note that payments can be made using your ATM debit card online or using your mobile phone to make transfer. You can also make payment by copying the account details on this site to the bank for payment.
Note that this past questions comes in PDF format and can be download on your email address after successful payment.
After downloading your past question from your email address, we request that you rate our products and services and leave a review about our products and services as well. Note that we use our customers review to make improvements on our products and services.
DISCLAIMER
Pastquestionsforum is a global focused test-prep company. It is our duty to provide you with the most comprehensive study materials for your examination. Our study materials are focused on extensive analysis, input from previous test candidates, and, on occasion, official/privileged study materials made available by examination bodies and testing agencies.