Last Updated on October 15, 2021
Akwa Ibom State School of Nursing Past Questions and Answers has been provided on this page. Akwa Ibom state school of nursing students are all advised to download their copies of the School of Nursing Past questions for Akwa Ibom State and answers. The school of nursing past questions for akwa ibom is a compiled PDF material. The nursing past questions introduces to the students the areas of concentration while preparing for the Akwa Ibom School of Nursing Examinations. Any student who wish to archive success during the Akwa Ibom State School of Nursing entrance examination. Download BUTH School of Nursing Past Questions
Benefit of Getting School of Nursing Past Questions for Akwa Ibom
Getting the complete and updated copy of the school of nursing past questions for Akwa Ibom is a necessity. While a student prepares for an examination, it is advisable that the student get the previous past questions and answers relating the examination he or she is sitting. Therefore  it is necessary to get the past questions for any examination you are preparing for. Scroll down to see how to download past questions for Akwa Ibom School of Nursing as you prepare for your entrance examination.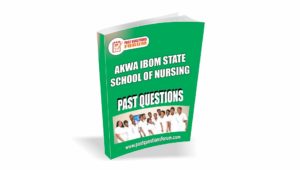 Akwa Ibom State School of Nursing Past Questions And Answers
As we had said earlier, The Nursing past questions for Akwa Ibom has been uploaded on this page all you need to do is simply follow instructions below to download your copy. Kindly note that this past question is not free of charge. The price for the past question is boldly highlighted before this post.
How to Get Latest School of Nursing Past Questions For Akwa Ibom State
To download this School of Nursing question and answers, simply click on GET PAST QUESTION NOW button and proceed to payment option page. You will have to fill in a brief form  before making payment finally. Note that your contact details is what we use to process your payment.
Payment Options
Payments can be made using your ATM debit card online or via mobile transfer using your mobile phone. You can as well copy account details from this site to the bank for payment.
After downloading your Nursing Past Questions, kindly rate our product and services and leave a review. We use our customers reviews to improve our products and services.
DISCLAIMER
Pastquestionsforum is a global focused test-prep company. It is our duty to provide you with the most comprehensive study materials for your examination. Our study materials are focused on extensive analysis, input from previous test candidates, and, on occasion, official/privileged study materials made available by examination bodies and testing agencies.