Last Updated on August 12, 2023
How to get the latest version of IMSUBEB Past Questions fast and easily. Here we are going to show you how to get a copy of the Imo State SUBEB past questions and answers in PDF format. Candidates who have taken part in the IMSUBEB recruitment should get a copy of their past questions and answers on this page.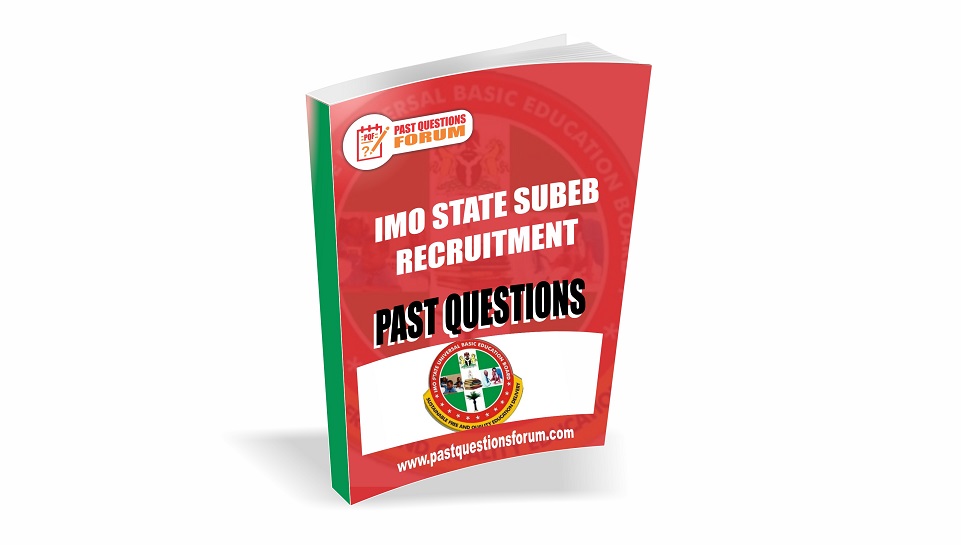 FREE IMSUBEB Past Questions (Sample Questions)
1. The ultimate goal of curriculum of planning is to
a. Develop programmes for society
b. Develop individual skills
c. Establish more schools
d. Guide educational programmes
e. Design teachers' programmes
---
2. Curriculum design differ primary in
a. Teaching and learning involves
b. Principles of teaching and learning c. Method, content and structure
d. Methodology and application
e. Scope and sequence.
---
3. Broad – field curriculum design is usually criticized because
a. It is difficult to organize
b. Of its cumbersome nature
c. It does not include fieldtrips
d. It does not take care of student's interests.
e. Subject demarcations still exist.
---
4. Activity curriculum does not require
a. A lot of instructional materials.
b. Co-curricula activities
c. Game and sports
d. Planned activities
e. Infrastructure and equipment
---
5. Tyler's curriculum planning process has
a. 6steps
b. 5steps
c . 4steps
d. 3 steps
e. 2 steps
---
6. The common features of most curriculum models are
a. Learning experiences and content
b. Objectives and learning experiences.
c. Objectives and evaluation
d. Organization of content and learning experience
e. Content and evaluation
---
7. The new UBE curriculum emphasizes
a. Society-centred learning.
b. Teacher–centred learning
c. Child-centred learning
d. Parent-centred learning
e. Government-centred.
---
8 Which of the following is not a method of teaching?
a. Discussion method
b. Project method
c. Interactive method
d. Power point presentation
e. Distraction method
---
9. Agencies of curriculum planning and innovation in Nigeria include
a. NERDCand NAFDAC
b. NERDCand TRCN
c. NUCandlCPC
d. NCCE and NBTE
e. ICPCandEFCC
---
10. An importance of a lesson plan is that it
a. Guides the teacher in the delivery of the lesson
b. Evaluated the learners in the classroom
c. Guides the school in implementing its programmes
d. Guides the teacher in planning
How to Download the Imo State SUBEB Past Questions
To get a copy of the updated version of the Imo State Universal Basic Education past questions and answers simply make payment either by bank transfer or directly with you ATM card and your past question will be sent to your email address in PDF format for download
DISCLAIMER
Pastquestionsforum is a global focused test-prep company. It is our duty to provide you with the most comprehensive study materials for your examination. Our study materials are focused on extensive analysis, input from previous test candidates, and, on occasion, official/privileged study materials made available by examination bodies and testing agencies.