Last Updated on February 26, 2021
Download the Oral And Maxillofacial Surgery Past Questions for free here at Pastquestionsforum.com. Are you preparing for the Oral And Maxillofacial Surgery Past Questions exams? do you need the Oral And Maxillofacial Surgery Past Questions past questions to boost your preparation? If yes, we have brought you good news. We have compiled the Oral And Maxillofacial Surgery Past Questions and uploaded it here. Scroll down to download. Download Also: PUBLIC HEALTH DENTISTRY PAST QUESTIONS
About the Bachelor of Dental Surgery BDS
Bachelor of Dental Surgery (BDS) is a five and a half year course in Nepal. The Bachelor of Dental Surgery includes a one year compulsory rotatory internship. The training duration for the training is usually four and a half years and is divided into two phases which are: Basic Sciences and Pre-clinical phase (usually the first two years) and Clinical Phase (usually two and a half years after completion of the phase one).
The core curriculum for the Bachelor of Dental Surgery program is composed of Basic Medical Sciences (Human Anatomy, Physiology, Biochemistry, Microbiology, Pathology and Pharmacology), General Medicine, General Surgery and Anesthesiology. Dental Science covers Dental Materials, Oral Biology, Oral Pathology, Community Dentistry, Oral Medicine and Radiology, Forensic Odontology, Orthodontics, Pedodontics, Prosthodontics, Periodontics, Conservative Dentistry & Oral Surgery and Endodontics.
In Nepal, through its affiliated colleges, the degree is provided by Tribhuwan University and Kathmandu University, whereas B.P. The Koirala Institute of Health Sciences, Dharan, is an independent degree provider.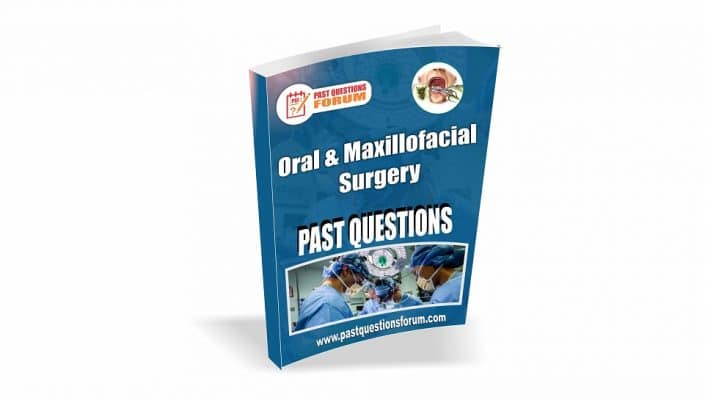 Oral And Maxillofacial Surgery Exam Questions PDF
The PDF version of the oral and maxillofacial surgery question papers is available here for download. Note that this material is completely free and we keep updating it whenever we need to. This material is usually for Bachelor of Dental Surgery, BDS. To get full access to this material, hit the download button below to download. We have also posted some sample questions below.

Oral And Maxillofacial Surgery Sample Questions
1. Define cyst. Classify odontogenic cyst of jaws. Write in detail clinical features, radiographic
features and management of odontogenic keratocyst.
2. Classify mandibular fractures. Describe in detail signs symptoms, radiological features and
management of bilateral condylar fracture.
II. Write Notes on: (10 x 5 = 50)
1. Lefort I fracture and management.
2. Kaban's protocol.
3. Composition of carnoy's solution and its use.
4. Boundaries of canine space and its contents.
5. Various extraoral approaches to the temporomandibular joint.
6. Kelsey fry's technique.
7. Garres Osteomyelitis.
8. Genioplasty.
9. Anterior superior alveolar nerve block.
10. Ashley's flap.
DISCLAIMER
Pastquestionsforum is a global focused test-prep company. It is our duty to provide you with the most comprehensive study materials for your examination. Our study materials are focused on extensive analysis, input from previous test candidates, and, on occasion, official/privileged study materials made available by examination bodies and testing agencies.