Last Updated on February 25, 2021
Public Health Dentistry Past Questions for BDS Examination is available on this page. The material has been compiled in different years and available for download FREE of charge. Past questions are essential tools to fight exam failure. We strongly advise that if your going in for the Public Health Dentistry, BDS Examination, then you should get this study pack. The BDS Examination past question on this page is strictly for Public health Dentistry.
About the Bachelor of Dental Surgery BDS
Bachelor of Dental Surgery (BDS) is a five and a half year course in Nepal. The Bachelor of Dental Surgery includes a one year compulsory rotatory internship. The training duration for the training is usually four and a half years and is divided into two phases which are: Basic Sciences and Pre-clinical phase (usually the first two years) and Clinical Phase (usually two and a half years after completion of the phase one).
The core curriculum for the Bachelor of Dental Surgery program is composed of Basic Medical Sciences (Human Anatomy, Physiology, Biochemistry, Microbiology, Pathology and Pharmacology), General Medicine, General Surgery and Anesthesiology. Dental Science covers Dental Materials, Oral Biology, Oral Pathology, Community Dentistry, Oral Medicine and Radiology, Forensic Odontology, Orthodontics, Pedodontics, Prosthodontics, Periodontics, Conservative Dentistry & Oral Surgery and Endodontics.
In Nepal, through its affiliated colleges, the degree is provided by Tribhuwan University and Kathmandu University, whereas B.P. The Koirala Institute of Health Sciences, Dharan, is an independent degree provider.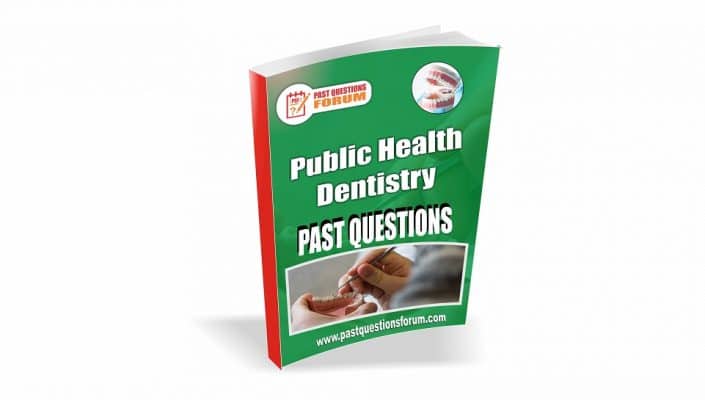 FREE Public Health Dentistry Past Questions (For BDS Exams)
The Public Health Dentistry Past Questions is available on this page. To access this material, you just have to read through and follow the instructions on this section. The material is compiled in a PDF version only.
To get the material, hit the DOWNLOAD button below and you will be directed to the download page. Click on the download button to start download. Note that this material is completely free of charge.
⇓⇓⇓

Public Health Dentistry Sample Questions
Questions one  Discuss the various caries activity and susceptibility test used in dental practice.
Question two  Define dental auxiliaries. Discuss the functions of various non operating dental
auxiliaries in oral health promotion.
Question three
Write Notes on: (10 x 5 = 50)
Question four
Describe the difference between a individual and public health practice.
Question five
Describe the various principles of primary health care approach.
Question six
Describe the various uses of epidemiology.
Question seven
Discuss the importance of normal distribution.
Question eight
Discuss the various approaches for tobacco cessation practices.
Question nine
Discuss the basis for third party pre payment plans in dental finance.
Question ten
Describe the method and criteria for scoring Plaque Index.
Question eleven
Describe the various works of World Health Organization.
Question twelve 
Discuss the role of caries vaccines in preventive dentistry.
Question thirteen
Discuss the various concepts of causation of diseases.
DISCLAIMER
Pastquestionsforum is a global focused test-prep company. It is our duty to provide you with the most comprehensive study materials for your examination. Our study materials are focused on extensive analysis, input from previous test candidates, and, on occasion, official/privileged study materials made available by examination bodies and testing agencies.