Description
Federal Civil Service Past Questions is now available for download in PDF format. Are you looking for the Federal Civil Service Past Questions and answers? If yes, you have arrived the right page. individuals can now follow the steps on this page to purchase the Federal Civil Service Question papers in PDF format. Below I is a preview of the Federal Civil Commission Past Question Paper.
Note this is a preview of the past questions and not the complete version of the questions. To get the complete and updated version of the question paper, kindly scroll down and follow the instructions below to get a copy of the E- Book in PDF format.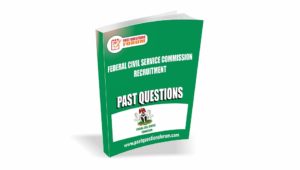 Questions
Questions one The military coup of July 25, 1975 which topped general Yakubu Gowon from power
took place when he was attending which important event?
a. OAU Summit in Kampala
b. UN General Assembly in New York
c. Assembly of Heads of States of ECOWAS in Monrovia
d. The Olympic Games
Question two Which of the following political parties did not participate in the 1979 General
Elections in Nigeria?
a. Unity Party of Nigeria
b. National Party of Nigeria
c. Social Democratic Party
---
Question three. Alhaji Shehu Shagari was sworn in as President of the Federal republic of Nigeria in 1979
a. Justice Fatai Williams
b. Justice Adetokunbo Ademola
c. Justice Salihu Modibbo Alfa Belgore
d. Justice Isa Mohammed
---
How to Get the Federal Civil Service Commission Recruitment Past Questions and Answers
The past question is available and will be sent to you email address in PDF format after making payment. Simply add to chart and proceed to check out to complete your purchase.
Question four The British took over Nigeria through
a. Negotiation
b. Bargaining
c. War
d. The Sea
---
Questions five Which of the following courts served as the highest judicial organ for Nigeria up till
1963?
a. Supreme court
b. Federal Court of Appeal
c. Appellate court
d. The privy council
---
Question six What was the primary purpose of the Sir Henry Willinks Commission of Inquiry?
a. To approve the independence of Nigeria
b. To allay the fears of minorities in Nigeria
c. To amalgamate Northern and Southern Nigeria.
d. To make Lagos a British colony
---
Question seven Into how many local government areas is Nigeria officially delineated?
a. 654 (b) 650 (c) 820 (d) 774
---
Questions eight Laws made by State government are known as
a. Edicts (b) Bye law (c) Acts
(d) Decrease
---
Question nine. The centenary anniversary of the amalgamation of Northern and southern Nigeria
will be celebrated in
a. 2060 (b) 2063 (c) 2014 (d) 2007
---
Questions ten Which of these men introduced indirect rule in Nigeria?
a. Mungo Park
b. Dr. Nnamdi Azikiwe
c. Lord Lugard
d. Sir James Robertson
---
You can like and share the Federal Civil Service Commission Past Questions and Answers to friends and family members. Also endeavor to leave a review below