Last Updated on January 4, 2023
Exam preparation with past questions is usually beneficial. Past questions are useful for exam preparation because they give you practical insight into how the assessment body designs their exams, how the exam you're prepared for might look, and what important themes or subject areas are likely to be covered. This pages brings you the official JAMB Economics Past Questions in a PDF format.
To do well in the JAMB Economics exams, you must prepare thoroughly. This is why it is critical for JAMB exam applicants to practice with JAMB past questions. You can access the JAMB English past questions and answers here. You can go over them again to see what you know and what you don't.
You can select JAMB PAST QUESTIONS for other subjects to view previous questions and begin studying.
Jamb Economics Past Questions and Answers 2023
Our Jamb / UTME Past Questions and Answers For Economics are compiled from a large number of previous written exams administered by the Joint Admissions and Matriculation Board. The Joint Admission and Matriculation Board (JAMB) was originally known as the Joint Admission and Matriculation Examination (JAMB), but it is now known as the Unified Tertiary Matriculation Examination (UTME) (UTME). Since every student has a smartphone these days, our goal is to provide convenient access to these vital tools, which can help you achieve.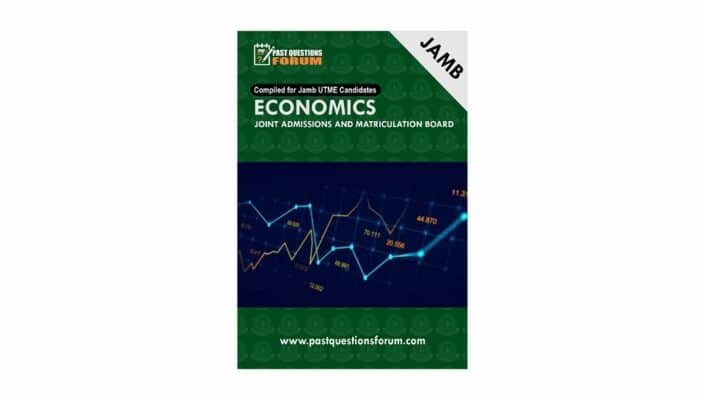 Free Jamb Economics Past Questions (Sample Questions)
Below are Economics sample questions from the Joint Admissions and Matriculations Board UTME examination. This is just a preview of what the question looks like. The complete material will be available for download after you have clicked the GET PAST QUESTION NOW button
Question one Division of labour requires that, the tasks in a production line be performed
A. by specialists
B. in stages
C. by all workers
D. by unskilled labourers
Question two Given that FC = ₦500, VC =
₦1,500, and Q = 50 units. Find the average cost of the product.
A. ₦30
B. ₦40
C. ₦10
D. ₦20
Question three Rent and administrative expenses are examples of
A. average fixed costs
B. average variable costs
C. fixed costs
D. variable costs
Question four A perfect competitor will continue to expand output up to the point where
A. TC > TR
B. MR = AR
C. MC < MR
D. MC > MR
Question five One of the characteristics of a monopolist is that, he can influence
A. quantity produced by other producers
B. prices charged by other producers
C. both price and quantity
D. price or quantity
Question six A monopolist can boost up his revenue by
A. adjusting both price and output upward
B. reducing total output to match price
C. increasing price
D. reducing price
Question seven Which of the following can be used to measure the Gross National product in an open economy?
A. C+I+G+(X+M)
B. C+I+G+X
C. C+I+G
D. C+I+G+(X-M)
Question eight If MPC = 2/3 and investment is ₦100 million, the level of national income is
A. ₦100 million
B. ₦10 million
C. ₦303 million
D. ₦300 million
Question nine The precautionary demand for money is determined by
A. the rate of interest
B. the level of savings
C. the level of income
D. general price level
Question ten An inflation that co-exists with high rate of unemployment is
A. hyperinflation
B. stagflation
C. demand-pull inflation
D. cost-push inflation
How to Get the JAMB Use of Economics Past Questions and Answers
You are one step away from getting your material. Kindly hit the GET PAST QUESTION NOW button, fill in your details at the checkout page and hit the place order button.
Your download will be available immediately after completing the process
Cheers!
DISCLAIMER
Pastquestionsforum is a global focused test-prep company. It is our duty to provide you with the most comprehensive study materials for your examination. Our study materials are focused on extensive analysis, input from previous test candidates, and, on occasion, official/privileged study materials made available by examination bodies and testing agencies.