Noun Past Questions For BUS429 – CORPORATE PLANNING . Locate the download button below to download the Noun Past Questions for CORPORATE PLANNING .
---
NATIONAL OPEN UNIVERSITY OF NIGERIA
PLOT 91, CADASTRAL ZONE, NNAMDI AZIKIWE EXPRESS WAY, JABI- ABUJA
FACULTY OF MANAGEMENT SCIENCES DEPARTMENT OF BUSINESS ADMINISTRATION EXAMINATION 2019_2
COURSE CODE: BUS 429
COURSE TITLE: CORPORATE PLANNING CREDIT UNIT: 3
INSTRUCTIONA

: 1. Attempt question Number one (1) and any other three (3).
2.Question number 1 is compulsory and caries 25marks, while The other questions carry 15 marks each
3.Present all your points in a coherent and orderly manner TIME ALLOWED: 2 ½ Hours.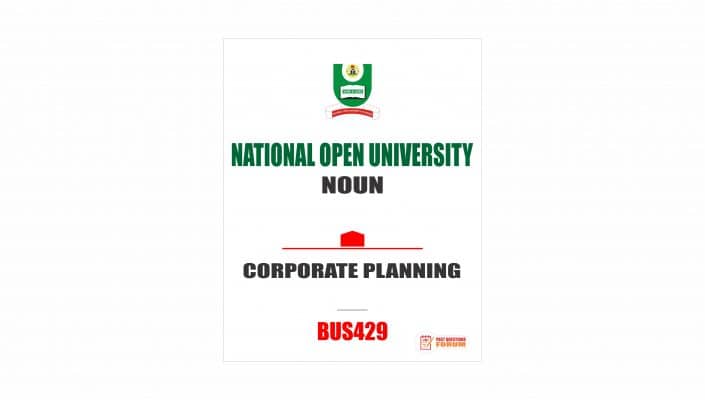 1a.What lessons would a good corporate planner draw from (a) Queuing theory;(b) Probability theory; (c) Breakeven analysis (d) Linear programming (15 marks)
b. What do you understand by the term corporate planning? Why do corporate plan fail and what can be done to ensure its success? (10marks)
2a. What are the managerial functions? Discuss them. (7marks)
b. In what fundamental way are the basic goals of all managers at all levels and in all kinds of enterprises the same? (8marks)
3a. How would you identify an organization's stated (real) objectives? What happens when an organization has conflicting objectives? (8marks)
b. Contrast traditional Objective setting and Real objective setting. (7marks) 4a. What does the benchmarking process involve? (5marks)
b.Differentiate. between forecasting and planning premise. (5marks)
c.How effective is forecasting as a planning technique?(5marks)
5aDecision making is the primary task of the manager: Discuss. (5marks)
b.Describe well- structured problems and programmed decisions.(5marks)
c.List the steps involved in decision-making process. Briefly discuss each of them. (5marks) 6a. Compare Simulation with Marginal analysis.(8marks)
b. What explains the growing popularity of project management? (7marks)